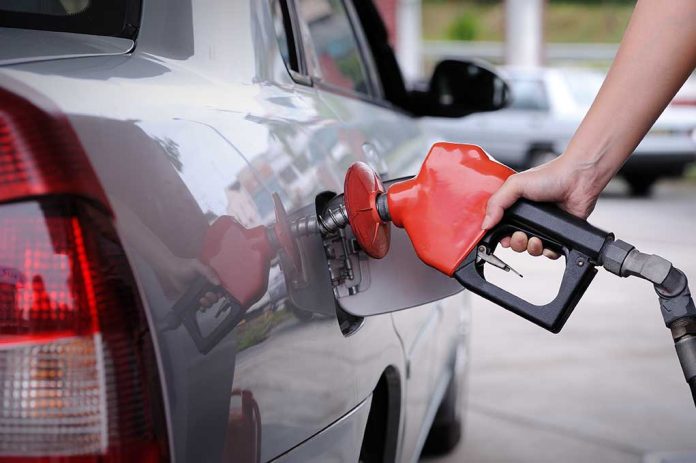 Save Big On Gas With These 5 Incredible Apps
(RepublicanPress.org) – Gasoline prices come with one guarantee: they're unpredictable. Oil is a global market affected by things as simple as the weather and as complex as geopolitical crises between nations. It isn't uncommon to see gas prices spike to seemingly unfathomable levels, only to settle again until the next fluctuation. Still, most people want as much control over what they pay as possible, so here are five great gas apps that can help.
Gas Buddy
Gas Buddy is more than just an app that will help find the best gas prices. It actually saves money on its own. The crowdsourced app directly links to users' checking accounts and saves 5 cents per gallon, with a bonus discount of 15 cents per gallon on the first fill-up. Gas Buddy will send users a card to use at the pump and load the savings onto it, redeemable in the form of free gas.
Waze
Waze is another popular crowdsourced app that works much differently from Gas Buddy. Waze is primarily a navigation system. Think Google Maps. Waze takes users from point A to point B and shows them live traffic updates speed traps, and other things from other users, including – you guessed it – the cheapest gas prices around. Waze allows users to set the stations with the lowest prices as favorites, so they'll always be able to get to them easily.
AAA TripTik
TripTik from AAA may bring back memories. Before the digital age, People would actually go to their local AAA office and receive a guided tour map of their planned vacation, complete with the best places to stop for hotels and gas stations. Today, the app does the same thing with just a few swipes and a little bit of information. The AAA network scans the roadways for the best prices available and reports them to their users so they can add them to their trip. Anyone can use the app, but only members have access to its full capabilities.
Gas Guru
Gas Guru is all about the prices. Owned by the Yellow Pages, the app obtains its prices from the Oil Price Information Service, so it's always up to date. Like Waze, it also has a navigation menu to help users find their destinations as quickly as possible and allows them to save at their favorite stations. This makes it a convenient option for saving money on gas.
Mapquest
One of the oldest mapping services on the internet, Mapquest actually published paper maps at one time. The company may have taken a backseat to Google and other popular navigation services, but it can still be a useful tool when you're out and about. Their latest app is familiar, easy-to-use, and has a great feature for finding and saving at gas stations.
No matter what app users choose, consistent use is the key. It doesn't take a lot to save a bundle. Saving just $5 a week on gas adds up over a year to a whopping $260.
Copyright 2022, RepublicanPress.org