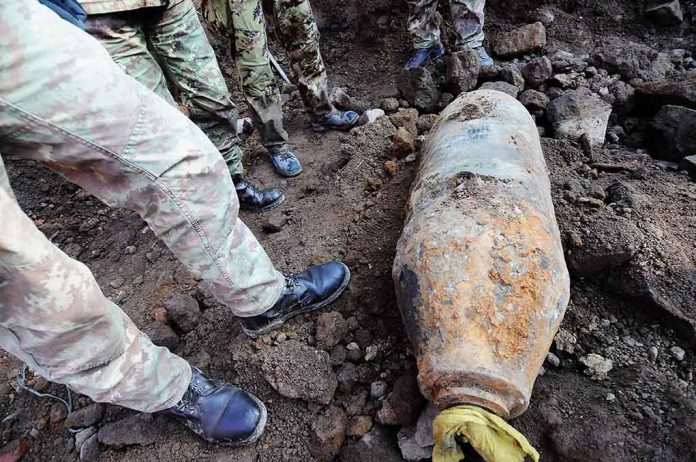 Bomb FOUND – Evacuation Reported!
(RepublicanPress.org) – On July 25, a couple of fishermen near a small town in Italy made an alarming discovery in the Po River. The area is experiencing a terrible drought which dried up the body of water enough to reveal an undetonated bomb from World War II. After evacuating around 3,000 safely from the town in Po Valley, experts moved the 1,000-pound US-made explosive to a secluded space and detonated the device on August 7.
To move the bomb, the Italian military not only had to remove the people in the region but also shut down the roads, railways, and airspace. Some residents didn't want to leave, causing a delay between the discovery and the detonation.
According to a report from Euro News, Borgo Virgilio Mayor Francesco Aporti said authorities finally convinced everyone that it was in their best interests to temporarily leave so the government could take care of the potentially dangerous matter. Considering the bomb contained 530 pounds of explosives, there was no question that an unplanned detonation could have had devastating effects.
Italy is currently in a state of emergency due to droughts in the area. The River Po is instrumental in the country's food supply. Another discovery due to receding waters happened in Rome, where the bridge ruins emerged from the depths of the Tiber River.
Copyright 2022, RepublicanPress.org