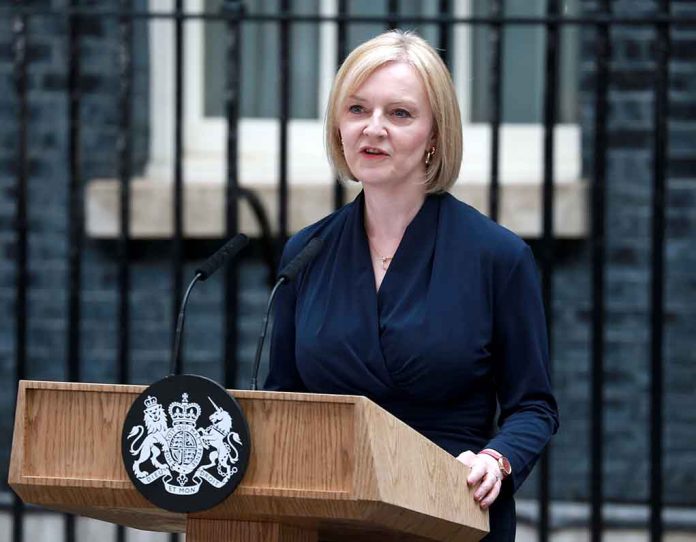 Liz Truss Suddenly Announces Resignation as UK Prime Minister
(RepublicanPress.org) – After a few years as the United Kingdom's prime minister, Boris Johnson announced he was stepping down from his position in July. The "Partygate" scandal during the height of the pandemic and lockdowns in the UK caused an uproar that ended up pushing him out of office.
Johnson agreed to stay in his role until his successor was chosen; That person was Liz Truss, who would take the job as prime minister in September. Shockingly, fewer than two months later, the new PM has announced she is also leaving the job.
Truss in Office
On September 6, at Balmoral Castle, Johnson officially stepped aside, and Truss took his place and met with Queen Elizabeth II, just days before the monarch died. At the time, Truss called the appointment an "honor," according to ABC News. The new PM stated her intention to concentrate her efforts on the economy, the energy crisis, and healthcare.
Those goals never came to fruition under her watch, however, as she resigned on October 20. Truss' brief 44-day stint makes her reign the shortest in the history of her country. Struggles across the pond seemed to be too much for the prime minister, as reports revealed she explained after her announcement that she was unable to "deliver the mandate" her party elected her on.
Given that, Truss decided to leave the role entirely, but will stay on until a replacement is chosen, as did her predecessor.
Tension Ahead of the Departure
The same day as her announcement, Parliament members from the Tory Party called for the PM's resignation, criticizing her government. This came just a day after a fracking meeting took place where certain members stated they were bullied into voting in support of Truss' energy policy. They were allegedly told the vote would be a "test of loyalty," according to a report from The BBC.
The most recent uproar wasn't the first problem during her time as leader, as her popularity has been dwindling. Truss recently made decisions regarding tax cuts that caused panic in the market over fears the move would worsen inflation. In response, she changed her economic stance and replaced her finance minister, but the damage was done.
The Labour Party is calling for an election to choose the next prime minister instead of relying on another appointment by the opposing party. After Truss' announcement and the home secretary quitting the day before, the Left-leaning party members said the government is "falling apart at the seams," The BBC reported.
Copyright 2022, RepublicanPress.org