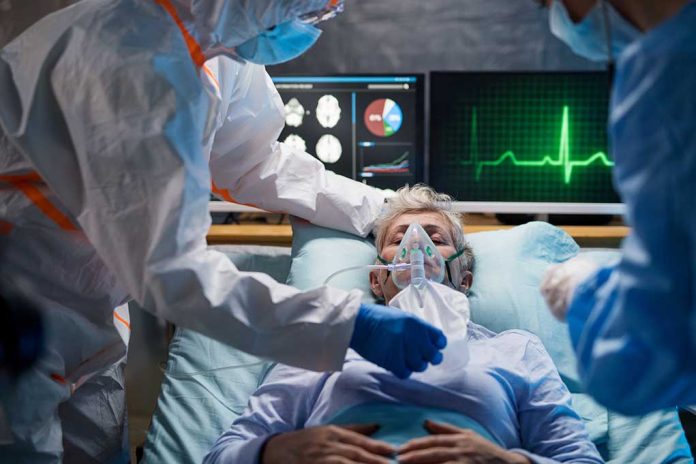 Woman Wakes Up From Coma, Makes BIG Accusation
(RepublicanPress.org) – Usually, we only expect hear about people waking up from years-long comas on television. But the idea of someone awakening from a vegetative state after years, or even decades, is still not unheard of. One woman recently came out of a coma after about two years — and she had something important to say.
On June 10, 2020, Wanda Palmer was found unconscious at her Charleston, West Virginia, home, and those who found her called 911. When deputies from the Jackson Country Sheriff's Office arrived at the scene, they found her with serious head injuries and arranged for her transport to a local hospital. Officials there eventually transferred her to a managed care facility. However, in a miraculous turn of events, she suddenly woke up after nearly two years in a coma, stunning everyone.
INVESTIGATORS: A Jackson County, https://t.co/6RxhJNResw. woman waking up from a two-year coma to identify her attacker is 'as rare as it gets'https://t.co/4i45rdPtCx

— Eyewitness News (@wchs8fox11) July 16, 2022
Out of the blue, the sheriff's office received a phone call on June 27, and they discovered Palmer had woken up and started talking. Two deputies went to the nursing facility a couple of weeks later to interview her.
Wanda claimed that her brother, Daniel, attacked her with a machete. WCHSTV reported that Jackson County Sheriff Ross Mellinger said her ability and willingness to assist investigators displayed her ongoing strength and perseverance.
BREAKING:Jackson Co. deputies have arrested Daniel Palmer for the attempted murder of his sister, Wanda Palmer, 2 years ago. Wanda has been in a coma since the brutal attack nearly killed her. Sheriff tells me she was able to recently identify her attacker & arrest was made today pic.twitter.com/8yd4POSC1r

— Leslie Rubin (@LeslieRubinWCHS) July 15, 2022
Sheriff's deputies obtained a warrant for Daniel Palmer's arrest and took him into custody on July 15. He faces felony charges of attempted murder and malicious wounding. According to WCHSTV, authorities had investigated the brother as a suspect in the past, but they didn't have enough evidence to arrest him until now.
Jackson Country's Regional Jail officials are currently detaining Daniel on a half-a-million dollar bond pending trial.
Do you think Wanda Palmer will finally get justice for what she went through?
Copyright 2022, RepublicanPress.org