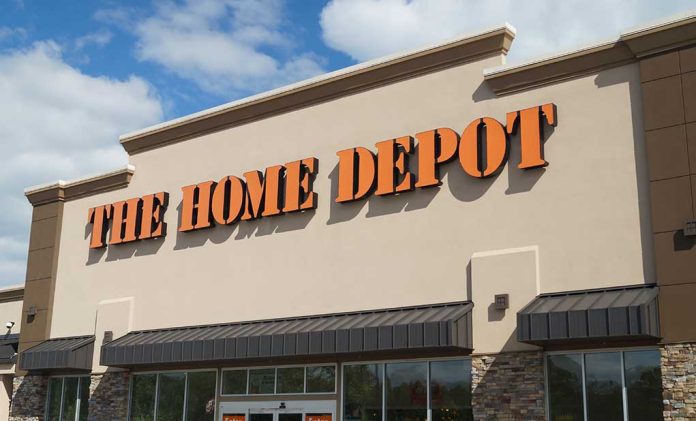 Shoplifting Suspect's Terrible Scheme To Save a Few Bucks BACKFIRES Spectacularly
(RepublicanPress.org) – On May 29, Police officers responded to a shoplifting report at a Spokane, Washington, Home Depot. However, shortly after police arrested the suspect, detectives arrived at the scene and booked her for setting a fire to distract shoppers and employees from an earlier theft at another store in the area.
Officers charged Kennie A. Calvert, 59, with first-degree arson for setting a fire at another Home Depot on May 19. Spokane Fire Department investigators and agents with the Bureau of Alcohol, Tobacco, Firearms, and Explosives determined that Calvert set the blaze to cover a theft perpetrated by her and Sierra D. Fry, 26.
SPD arrests suspect in Home Depot fire that caused millions of dollars in damages.https://t.co/KJ1xDGlbQV pic.twitter.com/oqqz9edKSV

— Spokane Police (@SpokanePD) June 2, 2022
Calvert reportedly told authorities she set the fire so she and Fry could steal paper towels, a plant, a bag of Miracle-Gro, and a roll of wire. Arson investigators determined they started the blaze in an aisle displaying outdoor power equipment and fuel. Investigator Thomas Oliver discovered a container of ready-to-use fuel made for use with 2-cycle equipment.
Fire Department officials arrived at the scene within three minutes. However, it took them about an hour to control the blaze. Even more shocking, officials with Home Depot estimated the damages at between $6 to 7 million.
Spokane police officers arrested Fry on June 1 and charged her with retail theft with special circumstances, as she also allegedly participated in two other shoplifting incidents. The Spokane Police Department reported Calvert has had 21 other felony convictions in the past.
Copyright 2022, RepublicanPress.org