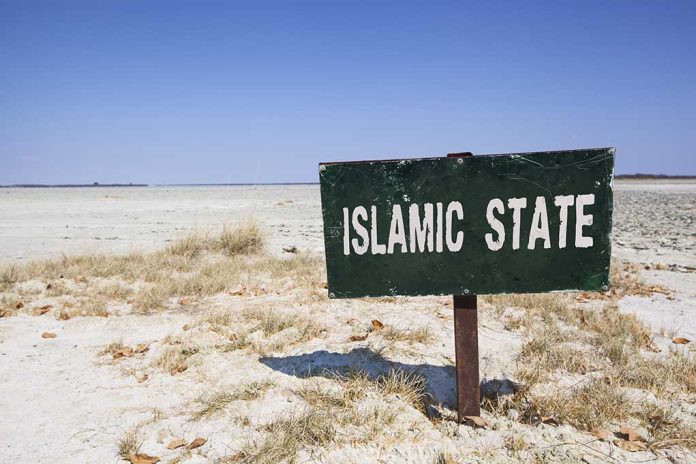 American TERRORIST Pleads Guilty – Details Pouring In!
(RepublicanPress.org) – A Kansas woman pleaded guilty to committing crimes against America on behalf of the Syrian Islamic State on June 7. Allison Fluke-Ekren, who converted to Islam some time ago, was responsible for training a squadron of female converts to use suicide bomb vests, grenades, and other high-impact weapons.
An American woman who converted to Islam & moved to the Middle East to help jihadist groups before getting caught has confessed to training an all-female battalion for ISIS. She taught the women & girls how to use grenades & suicide bomb vests. https://t.co/DsAOC4dyeR

— Andy Ngô 🏳️‍🌈 (@MrAndyNgo) June 8, 2022
This 42-year-old American was a biology student and teacher in Kansas until 2008, when she and her husband — a known Ansar al-Sharia sniper — moved to Egypt. She moved to Benghazi, Libya, in 2011 but changed locations again in 2012, traveling between Turkey and Syria, and eventually into Iraq.
In 2016, an ISIS leader in Raqqa assigned Fluke-Ekren, known then as Umm Mohommed al-Amriki, to lead an all-women operative group known as the Khatiba Nusaybah. She was reportedly responsible for training members in defensive and offensive strategies, including how to plan and carry out attacks against the US. Her core goal was to "[help] ISIS expand and to remain" in place, preserving the Islamic State.
Fluke-Ekren married another member of ISIS shortly after her sniper husband died in an airstrike in 2016. US troops entered Raqqa in the fall of 2017, allegedly prompting the woman to fake her own death and attempt to disappear to avoid capture. She was eventually arrested and extradited back to the US to face justice on January 28.
Fluke-Ekren faces up to 20 years in prison for her crimes.
Copyright 2022, RepublicanPress.org