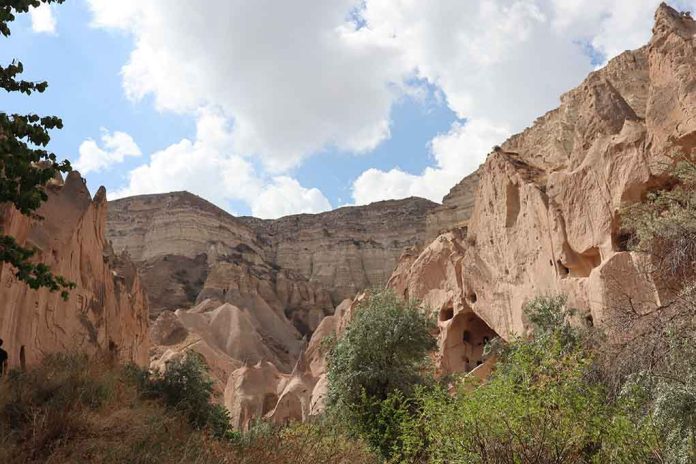 (RepublicanPress.org) – Three Sisters Falls Trail is a popular destination for many hikers in the Cleveland National Forest in San Diego County, California. Visitors experience an elevation change of 1,000 feet on the moderate to intense hike through rocky terrain. The Forest Service has warned it can be dangerous, and a recent death on the trail proved that.
On June 8, the San Diego County Sheriff's Department issued a news release stating a woman hiking with family and friends when she fell to her death over the falls. Authorities reported that 48-year-old Sarah Louise Crocker was hiking with four other people when a teen girl slipped. She attempted to save the girl, but they both went over the edge, landing in the bottom pool down below.
Those present during the incident tried to assist but were unable to resuscitate the woman. Crocker died at the scene. The teen survived the ordeal and was transported via helicopter to the hospital for treatment.
The San Diego medical examiner determined that Crocker died from several blunt force injuries to her body, most notably across her chest and pelvis. The official also listed drowning as a cause of her death, and it was ruled an accident. Police said the girl suffered severe but non-life-threatening injuries.
The deceased woman was from California and a married mother of two. She was a field naturalist who loved studying plants and animals in their natural habitats. Crocker's biography in The Nature Reserve said the adventurer loved sharing what she learned with others, and she was also an artist. She spent much of her time hiking, backpacking with her loved ones, and creating works of art.
The United States is home to hundreds of waterfalls, and hikers are often out on trails chasing them. Unfortunately, there are quite a few deaths linked to this popular activity. The Forest Service recommends taking extra precautions when in the vicinity of a waterfall. Be careful crossing rivers near one because the undercurrent can pull hikers in. Visitors should never climb on rocks around the falls, especially at the top. The recommendation also says to always stay stay away from restricted areas.
Copyright 2023, RepublicanPress.org