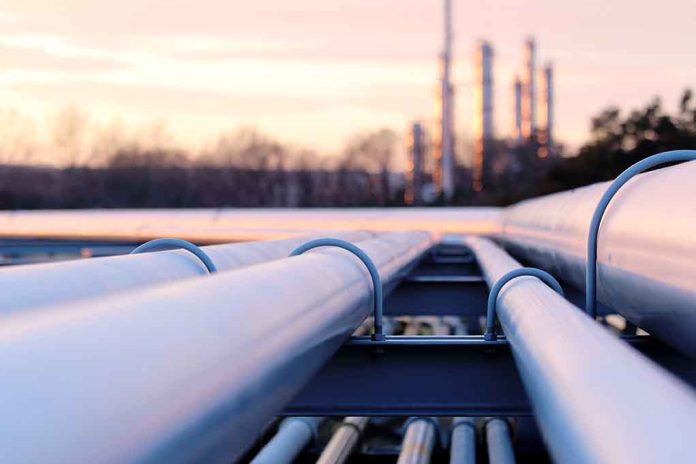 Woman Who Damaged Pipeline Sentenced to Prison
(RepublicanPress.org) – The Dakota Access Pipeline (DAPL) spans nearly 1,200 miles from northwest North Dakota to Illinois and transports as much as 750,000 barrels of sweet crude oil per day. On October 2, 2019, the Justice Department announced the indictment of Ruby K. Montoya for offenses related to a conspiracy to damage the DAPL. Montoya recently pleaded guilty and learned her fate.
On September 23, the DOJ issued a press release detailing Montoya's formal sentencing. A federal judge for the Southern District of Iowa sentenced Montoya, 32, to 6 years in prison and 36 months of supervised release following her incarceration. The court also ordered her to pay nearly $3.2 million in fines.
Arizona Woman Sentenced to Six Years in Prison for Conspiracy to Damage the Dakota Access Pipeline https://t.co/R2jp59guCt

— US Attorney S. Iowa (@USAO_SDIA) September 23, 2022
Montoya admitted to setting fire to the DAPL's instruments and other equipment in three Iowa counties from late 2016 through May 2017. She also acknowledged using an oxyacetylene torch to damage the pipeline.
According to the press release, FBI Special Agent Eugene Kowel said the lengthy sentence "sends a clear message" the agency will investigate and identify individuals performing acts of domestic terrorism. US Attorney Richard Westphal echoed that sentiment. He also pointed out the serious nature of Montoya's crimes.
Westphal noted that Montoya committed several serious acts at multiple locations resulting in more than $3 million in damages. He concluded his remarks by affirming his belief that her "significant prison sentence" should discourage similar acts by others.
Jessica Reznicek, Montoya's co-conspirator, received an eight-year prison sentence, three years of supervised release, and restitution in June 2021.
No details about a motive for the crime were provided. However, one report from the Sacramento Bee noted that environmentalists and protesters have spoken out against the pipeline.
Copyright 2022, RepublicanPress.org