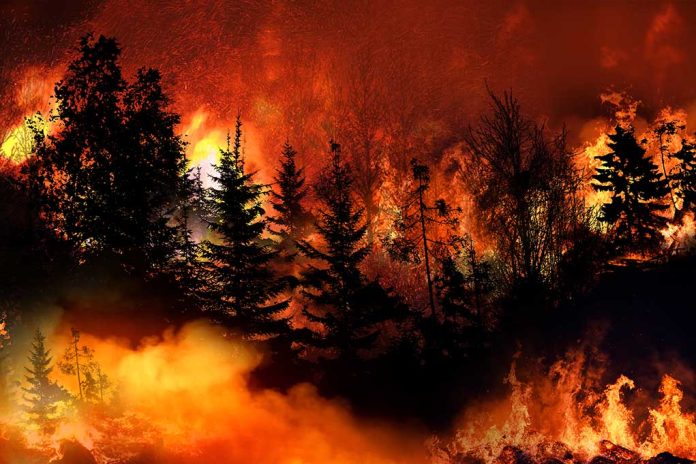 (RepublicanPress.org) – Wildfire season in Alberta, Canada, starts on March 1 each year and stretches all the way until October 31. The government reportedly said almost all fires in the spring are caused by humans and are preventable. After the snow melts, the region is filled with dead grass that can easily ignite during the spring and summer months. There are currently more than 100 active fires in Western Canada, and some are so bad officials are taking emergency action.
On May 7, Premier Danielle Smith announced she met with an emergency committee, and they decided to declare of state of emergency in Alberta. The leader said it was the best option to protect residents, explaining the declaration unlocked certain powers to help deal with the "extreme situation." The next day, about 30,000 people were told to evacuate their homes because there were over 24 blazes not yet under control by firefighters.
Global News reported the Minister of Emergency Preparedness Bill Blair admitted it was difficult to estimate exactly how many people had been affected by evacuation orders because the situation is volatile and ongoing.
Take a look as MASSIVE wildfires ravage the province of Alberta, Canada. 25,000 people have been evacuated. This just confirms my School Boy's Theory of History: It's just one damn thing after another:pic.twitter.com/IMQHzAcmOO

— Steve Hanke (@steve_hanke) May 8, 2023
A bit of rain allowed emergency personnel to access some of the wildfires that were previously unreachable in southern Alberta. However, the northern part of the province wasn't so lucky. Firefighters are still struggling to reign in the fires there. A huge fire in that region destroyed a police station, a local store, and 20 houses. Those in the area had to evacuate by either boat or helicopter to get to safety.
The wildfires are in their second week of burning. Crews from the eastern portion of the country traveled to the region to help Alberta personnel fight back the flames. The burn area reportedly spanned over 375,000 hectares as of May 4. Fortunately, there have not been any reports of injuries or deaths from the blazes.
Copyright 2023, RepublicanPress.org