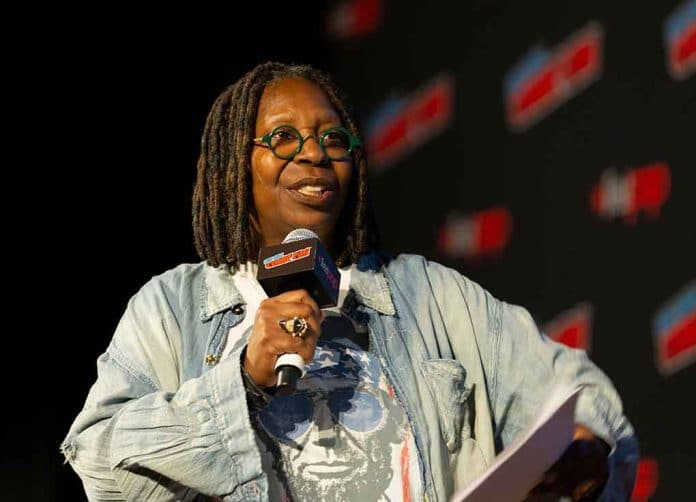 (RepublicanPress.org) – The world reflected on the death of millions of Jews at the hands of Nazis last week during International Holocaust Remembrance Day observations on January 27. Vice President Kamala Harris stirred up an uproar for attending the inauguration of Honduras' new vice president, an outspoken advocate of anti-Semitism that day. Not one to be outdone, daytime talk show host Whoopi Goldberg set off a firestorm after she made questionable remarks the Holocaust during the January 31 airing of ABC's "The View."
According to Goldberg, the atrocities imposed on humanity during the Holocaust weren't about the Jews or race. Instead, they involved man's inhumanity to others.
Sparks fly as The View panel confronts Whoopi after she says "the Holocaust isn't about race. No. It's not about race."
"Well, the considered Jews a different race," Joy Behar says.

"But it's about white supremacy. It's about going after Jews and Gypsies," Ana Navarro adds. pic.twitter.com/GZwZSi2qXi

— Nicholas Fondacaro (@NickFondacaro) January 31, 2022
"Let's talk about [the Holocaust] for what it is," Goldberg said during Monday's episode. "It's [about] how people treat each other." She went on to claim it doesn't matter if a person is black, white, or Jewish — "everyone eats each other."
As one might expect, the backlash to Goldberg's remarks was swift, and she ended up apologizing a few hours later. However, she appeared to stick to her argument during her evening appearance on "The Late Show" with Stephen Colbert before apologizing again the next day on the air, saying that she was "grateful" for the corrections.
Stephen Colbert: The Nazis would say it's a racial issue.
Whoopi: This is what's interesting to me because the Nazis lied. It wasn't. pic.twitter.com/LZujsAug41

— Dan O'Donnell (@DanODonnellShow) February 1, 2022
However, everything came crashing down for Goldberg on Tuesday evening, when ABC head Kim Godwin announced that "effective immediately," she was suspending Goldberg for two weeks in the wake of her "hurtful comments." Godwin added that she asked Goldberg to take the time away from the show to reflect on the impact of her remarks.
Copyright 2022, RepublicanPress.org