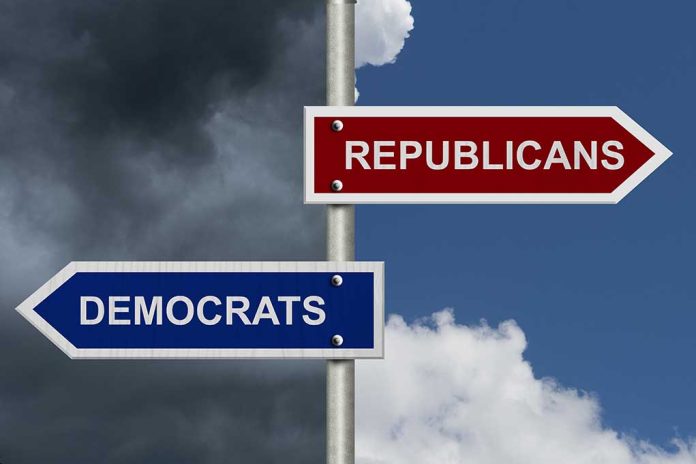 (RepublicanPress.org) – In November 2022, West Virginia House Delegate David Elliott Pritt — a Democrat — unseated the Republican incumbent, now former House Delegate Austin Haynes. Pritt, a Fayette school teacher turned politician, said at the time he would happily "represent all the people" in his district, regardless of their party affiliation. While that sentiment might still hold true, the delegate himself decided it was time to make a personal political change.
On April 17, Pritt decided to leave the Democratic Party and join the Republicans, adding to their supermajority in the state House. His recent move gave the GOP 89 members in West Virginia's lower chamber, leaving only 11 Democrats. Pritt did not provide the public with an explanation for the switch. Republicans also hold a supermajority in the state Senate with 31 senators on the Right and only three on the Left.
West Virginia Chairwoman Elgine McArdle (R) released a statement about Pritt's decision and welcomed him to the GOP. According to her, the lawmaker recognized the Democratic Party had changed over the years and chose to join the Republicans. McArdle said the people in her state are fleeing the "Democratic Party in droves."
"WVGOP Chairwoman Statement on Delegate Elliott Pritt Joining the Republican Party" pic.twitter.com/PuFzS6DeBF

— WVGOP (@WVGOP) April 17, 2023
The West Virginia Democratic Party reacted to the news about Pritt switching his affiliation. The press release stated this isn't the first time he has changed parties and said the only thing people in the state can count on when it comes to Pritt is that they "can't count on him" at all. WV Democratic Party Vice Chair Sam Petsonk said Pritt's decision shows his "lack of core values and honesty."
Human Weathervane Elliott Pritt Switches Parties (Yet Again)

For Immediate Release April 17, 2023

(Charleston, WV) Elliott Pritt started his political career as a self-avowed member of the Socialist Party USA. pic.twitter.com/dw1uC1ugRJ

— WV Democratic Party (@wvdemocrats) April 17, 2023
Pritt became the fourth politician to leave the Democratic Party in favor of the GOP within the last month. The other lawmakers include Louisiana State Representatives Jeremy LaCombe and Francis Thompson and North Carolina State Representative Tricia Cotham.
Copyright 2023, RepublicanPress.org