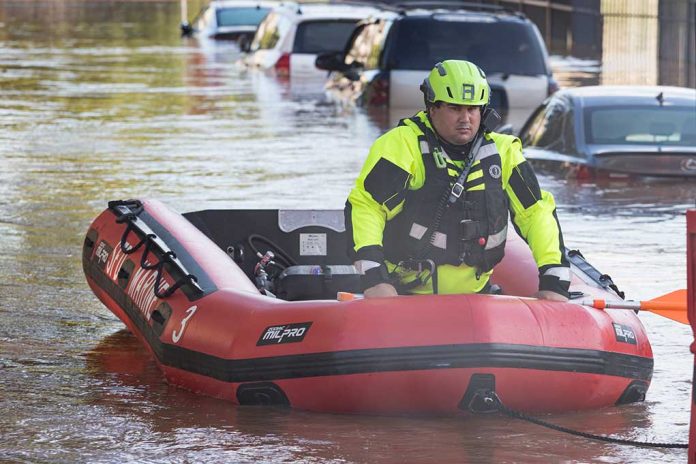 Woman SAVED By Weather Reporter – A Terrifying Situation!
(RepublicanPress.org) – Record rainfall in Dallas/Fort Worth, Texas, caused officials to declare a "state of disaster" in the area on August 23. At the time, tons of rain fell over a short period of time, costing at least one woman her life.
The day before, the storms caused a woman inside her car to get stranded in a flash flood. TV reporter Robert Ray was getting ready for a segment on the events when he noticed Stephanie Carroll in peril. Without a second thought, he entered the waist-deep waters to save her.
A nearby crew caught the brave act on film.
At first, he tried to push the vehicle to safety with the woman inside, but the water wouldn't allow him to do so. Instead, Ray approached the window, pulled Carroll out, and carried her to dry land. Not only that, but the reporter went back for a second time to retrieve some of her possessions.
Carroll said she lost control of her car while driving through the water and believed she was "going to die."
Ray reported a whopping eight inches of rain fell over 12 hours in the area. According to a report from The Washington Post, some parts of Dallas experienced enough rainfall this week to be considered "1-in-1,000-year flood" events.
Copyright 2022, RepublicanPress.org