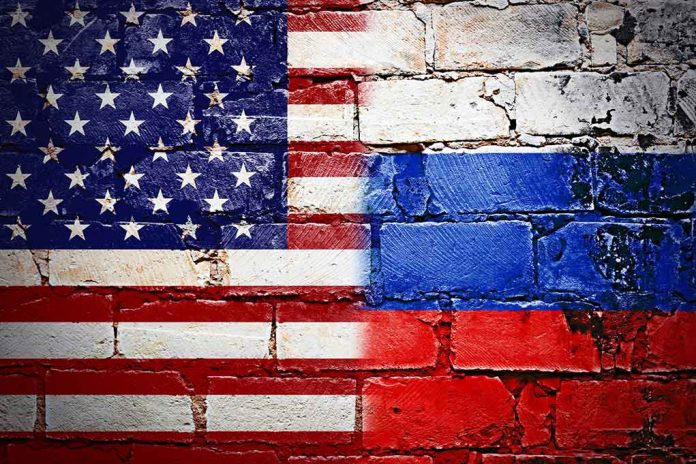 People With Dual US-Russian Citizenship Urged To Leave Russia
(RepublicanPress.org) – On September 21, President Vladimir Putin gave a televised national address to update Russians on the military operation to liberate Donbas from Ukraine's "neo-Nazi regime." The Russian president explained he found it "necessary" to sign an executive order authorizing the "partial mobilization" of reservists and individuals with prior military training to "defend our Motherland… its sovereignty and territorial integrity." These messages have prompted the US to urge US-Russian citizens and other Americans to leave the warring nation.
The public response to Putin's decree was swift. A flood of draft-aged Russians started fleeing the country, resulting in flight cancellations and delays. Finland ended up closing its land borders with Russia to tourists as part of an effort to avoid international fallout.
Additionally, a rash of violence overtook the country in the wake of Putin's mandate. For instance, on September 26, a lone gunman opened fire on a Siberian military recruitment station. Likewise, an individual drove his car into a draft office south of Moscow. The Wall Street Journal estimated disgruntled Russians launched at least 17 attacks against recruitment offices within a week of Putin's address.
Amid this tumultuous political and social environment, US officials warned individuals with dual US-Russian citizenship to leave Russia.
US Government Urges Americans With Dual Citizenship To Leave Russia
On September 27, the US Embassy and Consulates website in Russia issued a Security Alert for US Citizens in Russia. The notice claimed Russian authorities might "refuse to acknowledge dual nationals' US citizenship," obstruct their access to US consular services, block their departure, and conscript them into military service against their will.
The alert also warned Americans that access to commercial fights was minimal and difficult to obtain "on short notice." Consequently, it says dual citizens and visitors who want to leave should take appropriate measures to depart quickly.
The alert also advises people still located in Russia to:
Avoid protests and refrain from photographing security details at those demonstrations
Carry US passport and Russian visa at all times
Establish a plan for leaving Russia without relying on help from the US government
Notably, the United Kingdom's Foreign, Commonwealth and Development Office issued a similar warning to thousands of British nationals currently in Russia, many with dual citizenship.
Americans in Russia needing assistance can contact the US Embassy in Moscow by email at [email protected] or by telephone during normal business hours at +(7) (495) 728-5577 and after hours at +(7) (495) 728-5000.
Copyright 2022, RepublicanPress.org