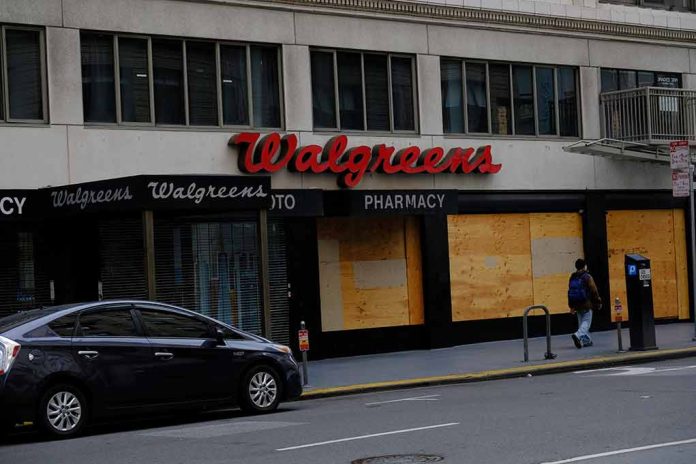 (RepublicanPress.org) – In recent years, several cities have started implementing criminal justice reforms amid increasing concerns about crime. A number of companies like Walgreens even started shutting down stores in high-crime municipalities. Now, officials have reportedly redesigned a store.
In Walgreens' latest effort to provide customers with a friendly, hands-on shopping experience, the company has remodeled one of its stores. Walgreens' newly renovated South Loop, Chicago, store reopened for business with an entirely new look and feel at the end of May.
The store features a sign advising that employees "do the shopping" since all but two aisles of sales items are located behind a sales counter. Customers can get assistance from store workers by using several self-serve kiosks. Additionally, a self-service checkout section near the store's exit provides a nearly contactless shopping experience.
Here's how it works. Customers order items they can't find in the aisles at one of the kiosks. A staff member will quickly fill their order, and they can pay for their items using the self-service checkout stations. If they prefer, shoppers can order all their items online, check in at a kiosk, grab their pre-selected items, and pay.
The pharmacies operate similarly with kiosks, allowing them to check in and wait for a pharmacist to prepare their items.
A spokesperson for Walgreens sent Fox Business a brief statement explaining the company's goals for the new system. They said they were "testing a new experience" at its South Loop store featuring "new concepts, technologies, and practices" in hopes of enhancing the "experiences of [its] customers and team members."
Walgreens hasn't confirmed that its redesign decision has anything to do with crime. According to The Chicago Sun Times, one representative said it was all about creating a better experience for shoppers. However, a number of news outlets have pointed out Walgreens' ongoing concerns about theft, noting that this new move could serve as a way to cut down on the crime.
Copyright 2023, RepublicanPress.org