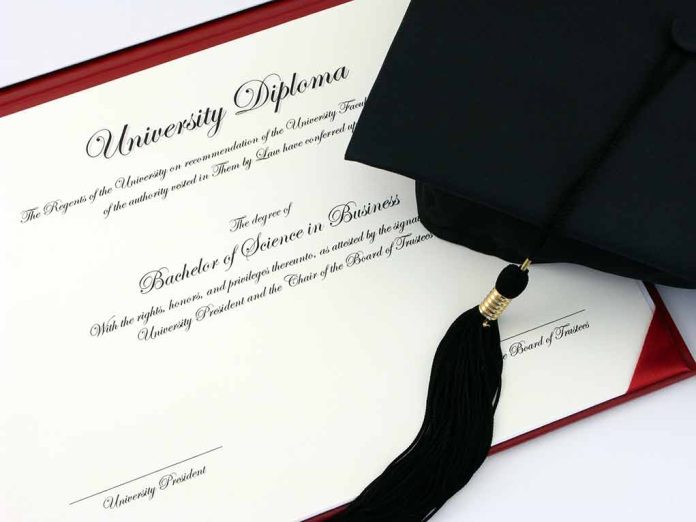 (RepublicanPress.org) – The average cost of college tuition in the United States during the 2022/2023 school year ranged between roughly $10,500 per year to nearly $40,000. The average price varied based on whether the college was public or private and its location. Even though nearly 18 million students enrolled in universities in the fall of 2022, college enrollment has been on the decline over the past 10 years.
On May 30, Virginia Governor Glenn Youngkin (R) is now making changes to his state. He announced the government was eliminating the requirement that applicants must have a college degree to work in most state positions.
Youngkin's Move
In the announcement, the Virginia governor stated his administration was committed to "reimagining workforce solutions" that would give more employment opportunities to his constituents. Youngkin said giving equal consideration to all applicants will make the hiring process better, open up career paths previously closed, and allow the government to employ people all those who can offer "quality services." Further, he said the state hit its highest work participation rate in almost 10 years.
Secretary of Labor Bryan Slater said the new hiring methods were "great news" for Virginians who want to work for the state. He said training, experience, certificates, abilities, skills, and knowledge will all be taken into consideration during the hiring process. The official also said the government will continue to look for ways to "simplify and speed up" the process of earning credentials and licensing for those who want to work for The Old Dominion. Secretary of Administration Margaret "Lyn" McDermid called the move "smart business practice."
Other States
Virginia follows several other states that have already implemented similar measures, the first of which was Maryland. In March 2022, then-Governor Larry Hogan (R-MD) announced he was eliminating the four-year college degree requirement for a large number of state jobs. He said he hoped to lead the nation by example — and he did. Five other states followed suit: Alaska, Pennsylvania, Colorado, North Carolina, and New Jersey.
Former President Barack Obama praised the effort on Twitter, saying the degree barrier would make "good paying jobs" available to more people in those states. He's a longtime advocate of making government jobs more accessible to the average person.
Youngkin's recent announcement stated Virginia offers more than 20,000 job opportunities annually. Those positions will now be available to a wider set of applicants, allowing working class Americans more access to good-paying jobs that will lift them into the middle class. The change will reportedly take effect on July 1.
Copyright 2023, RepublicanPress.org