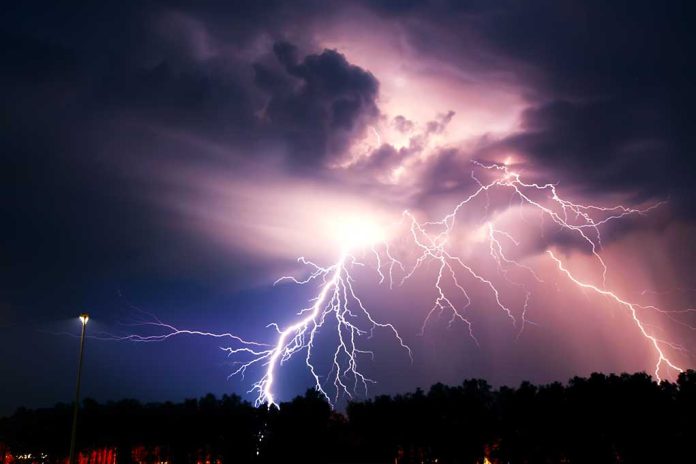 D.C. TRAGEDY Near White House – Victims Identified!
(RepublicanPress.org) – According to the National Weather Service, lightning strikes kill roughly 20 individuals and injure hundreds annually in the US. No one died during the first six months of the year, but a rash of deadly incidents hit the last few weeks, with several people dying on the same weekend in July. Sadly, three individuals also perished as the result of a strike in Washington, DC, a stone's throw from the White House grounds.
On Thursday, August 4, emergency medical services workers and fire rescue personnel responded to reports of a lightning strike in Layfayette Square. Daily Wire reporter Ryan Saavedra reported that six separate bolts of lightning struck within a fraction of a second.
This appears to be video of the lightning strike outside the White House that critically injured 4 adults this afternoon.

Experts said 6 separate lightning strikes hit the same exact area within a fraction of a second. pic.twitter.com/Q06ibjsHMh

— Ryan Saavedra (@RealSaavedra) August 5, 2022
Initial reports indicated a Wisconsin couple, James and Donna Mueller, died after being struck while visiting the nation's capital to celebrate their 56th wedding anniversary.
Brooks Lambertson, 29, was a vice president at City National Bank and a graduate of Cal Poly San Luis Obispo https://t.co/ef1kfHzfBr

— Los Angeles Times (@latimes) August 7, 2022
On Saturday, the Los Angeles Times reported that 29-year-old Brooks Lambertson also died during the incident. He worked as a bank executive and was in the nation's capital on business.
Lambertson's employer, City National Bank, published a statement later that day expressing its condolences to his family, friends, and co-workers. It also lauded him as "an incredible [person] who will be remembered for his… unwavering positivity."
Likewise, the White House issued a press release stating that officials were "saddened by the tragic loss of life," adding that their thoughts and prayers were with the victims' families.
Copyright 2022, RepublicanPress.org