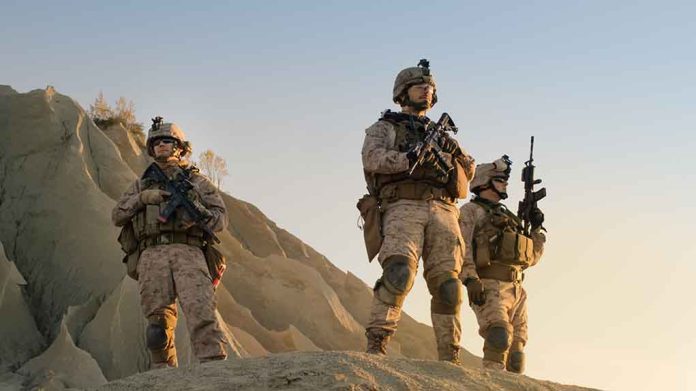 (RepublicanPress.org) – The US Central Command (USCENTCOM) formed a combined joint task force code-named Operation Inherent Resolve (CJFT-OIR) in late 2014 to spearhead the American-led effort to defeat the Islamic State of Iraq and Syria (ISIS). In March 2019, the group destroyed Syria's last remaining ISIS stronghold. However, sleeper cells continue launching attacks in and around the two countries. A new report indicated several service members and a working canine sustained injuries while targeting a senior-ranking ISIS member.
On February 17, USCENTCOM issued a press release detailing a CJFT-OIR operation in northeastern Syria. The previous night, a combined team of US troops and Kurdish-led Syrian Democratic Forces (SDF) launched a helicopter raid targeting senior ISIS leader Hamza al-Homsi.
ISIS Senior Leader Killed and Four U.S. Servicemembers Wounded in Helicopter Raid in Northeastern Syria pic.twitter.com/j2a8IWsQw2

— U.S. Central Command (@CENTCOM) February 17, 2023
The statement announced that al-Homsi died during the operation. Additionally, an explosion originating from the target's location injured four US service members and a working dog. Officials transported them to a medical facility in Iraq. CBS News subsequently reported that they were being taken to Landstuhl Regional Medical Center, a US military hospital near Ramstein Air Base in Germany.
USCENTCOM spokesperson Col. Joe Buccino later told media outlets that the service members and canine were injured after al-Homsi detonated a suicide vest. Buccino said no other ISIS members were killed or captured during the raid. Initial assessments indicated no civilians were injured or killed.
Buccino confirmed al-Homsi's status as the head of ISIS operations in eastern Syria. He also advised reporters that CJFT-OIR members killed an ISIS assassination cell leader in another raid but didn't offer additional details.
Four American servicemembers and a military service dog were wounded in a U.S. counterterrorism raid in Syria. Officials say their target senior ISIS leader Hamza al-Homsi was killed in the raid. pic.twitter.com/jPPxIczQ4k

— CBS Saturday Morning (@cbssaturday) February 18, 2023
National Security Coordinator John Kirby told reporters at a White House press conference that the four service members and working dog were in stable condition. Press Secretary Karine Jean-Pierre declined to say whether President Joe Biden signed off on the mission, referring reporters to the Pentagon for additional information. However, she did say that the president was "closely involved" with the operation. So far, defense officials have remained silent about the operation.
Copyright 2023, RepublicanPress.org