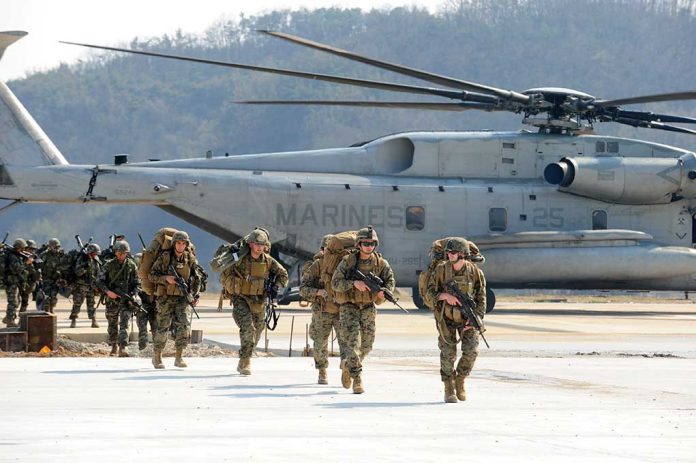 US Troops ATTACKED – Multiple Injuries Reported!
(RepublicanPress.org) – Iran-backed militias and other groups associated with the Islamic Revolutionary Guard Corps (IRGC) have recently been accused of increasing aggressive attacks against US forces in Syria. One of the assaults allegedly happened on August 15 when rockets struck the Green Village base in the northeastern part of the country near Iraq. President Joe Biden ordered a response in kind, ordering airstrikes targeting the enemy's "infrastructure facilities" in Deir ez-Zor, according to a statement from Central Command spokesperson Col Joe Buccino.
On August 24, the militant groups reportedly struck again — in two different locations — this time, three US service members were wounded in the process. Luckily, they only suffered minor injuries.
US troops wounded in Syria rocket attacks https://t.co/qWL9f60s4Q pic.twitter.com/FgTsBSq8FI

— The Hill (@thehill) August 25, 2022
Central Command reported US forces responded immediately to the attacks, sending military helicopters to take out some of the equipment and vehicles used in the previous strike. CENTCOM reported the Apaches, gunships, and artillery killed four militants and eliminated seven rocket launchers.
According to US officials, the retaliations are not meant to cause ongoing conflict but to put Tehran officials on notice. The message is that America will defend against any and all aggressions. Army General Michael Kurilla said "no group will strike" American troops unchecked, NBC News reported.
No specific party has claimed responsibility for the attack that recently wounded the military members; however, given the proximity to the other strikes, the Biden administration believes the culprits are Iranian-backed organizations.
Copyright 2022, RepublicanPress.org