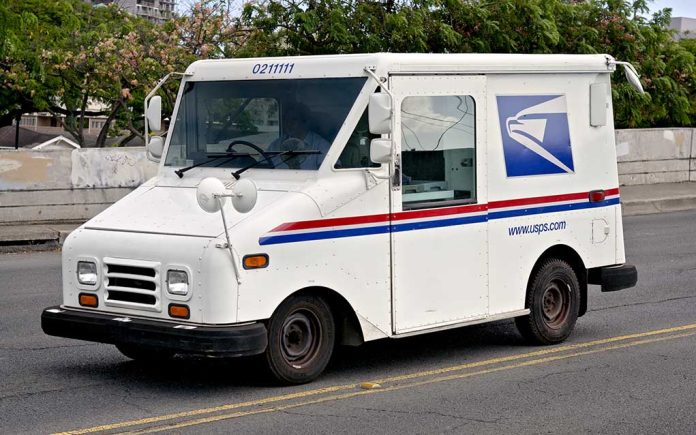 (RepublicanPress.org) – In December 2022, the United States Postal Service (USPS) announced an initiative to put more than 66,000 electric vehicles on the street by 2028. The effort, if accomplished, would create the biggest fleet of electric cars in the US. The purchase would replace the current group of delivery trucks over the next few years. A recent announcement shows the USPS is moving forward with that plan.
On February 28, PR Newswire reported the postal service contracted for the acquisition of 9,250 left-hand drive battery electric vehicles (BEVs). USPS also reportedly ordered over 14,000 charging stations for placement at its facilities to support the new fleet. When all is said and done, the investment is likely to approach a cost of $9.6 billion — about a third of that money will come from earmarked funds set aside by the Inflation Reduction Act.
Postal Service Buys Nearly 10,000 Electric Vehicles As Biden Pushes For Electrified Federal Fleet https://t.co/9V7T67Vl4K pic.twitter.com/4MVm0fPOrj

— Daily Wire News (@DailyWireNews) March 1, 2023
During the initial announcement of the USPS migration over to BEVs, Postmaster General Louis DeJoy stated the post office's mission is to "deliver mail and packages" to over 160 million addresses six out of seven days every week. He said the USPS would like to accomplish that objective in a "more environmentally responsible way."
In September 2022, the White House released a fact sheet including President Joe Biden's economic plans for the country moving forward. Part of that initiative was putting about $85 billion toward manufacturing electric vehicles (EVs) in addition to parts and chargers to support the new form of cars and trucks. The administration listed specific companies participating in the EV chain and said federal institutions would take the lead in converting from gas to electric modes of transportation.
During the president's State of the Union address in February, Biden announced the administration's accomplishments so far in the area of EVs. He said the current generation owes it to the "children and grandchildren" of tomorrow to address the "climate crisis." It seems the USPS is moving forward with that initiative.
Copyright 2023, RepublicanPress.org