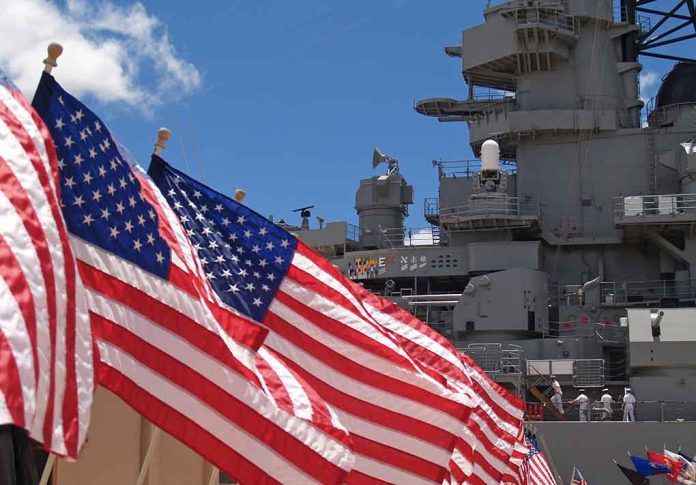 (RepublicanPress.org) – The US Navy commissioned its first America-class amphibious assault ship (AAS), the USS America (LHA-6), in 2014. Designed to facilitate the shore landings of Marine Expeditionary Units, these vessels operate similarly to aircraft carriers. However, they transport helicopters and troop transports with vertical takeoff and landing capability instead of fighter jets. The Navy recently revealed the name of an America-class ship.
According to the Navy website, on December 13, Secretary of the Navy Carlos Del Toro announced that the service was naming its upcoming America-class AAS, the USS Fallujah (LHA-9), after the First and Second Battles of Fallujah, American-led offensives in the Iraqi city in 2004.
Just announced: the America-class amphibious assault ship, LHA-9, will be named USS Fallujah.

At Fallujah, #Marines and coalition forces defeated a determined enemy. The USS Fallujah will serve as a reminder to our Nation and its foes why the @USMC is the world's finest.

— David H. Berger (@CMC_MarineCorps) December 13, 2022
The First Battle of Fallujah, Operation Vigilant Resolve, took place in April 2004 as part of an effort to apprehend or kill the individuals responsible for killing four Blackwater USA military contractors and five American soldiers.
The Second, Operation Phantom Fury, was a US-led offensive to retake the city from insurgent elements. The operation lasted about six weeks, beginning in November 2004, and has been described as the "bloodiest" battle of the Iraq War.
The designation follows the recent pattern of naming America-class vessels after former military battles. For example, the Navy named the second America-class AAS ship the USS Tripoli (LHA-7) to honor the US Marine Corps victory against Tripoli during the First Barbary War in 1805. The third ship, the USS Bougainville (LHA-8), commemorates a series of land and sea battles waged during World War II's Pacific campaign against the Empire of Japan.
Copyright 2022, RepublicanPress.org