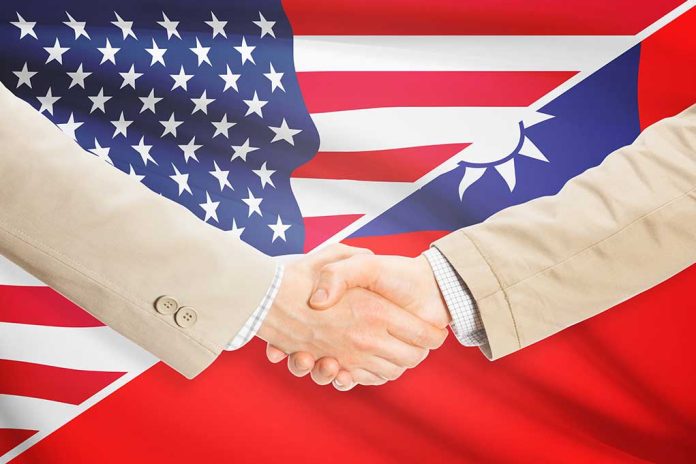 (RepublicanPress.org) – Over the last 6 weeks, all eyes have been focused on the Russia-Ukraine war and Russian President Vladimir Putin's actions. However, the United States has been monitoring the situation further south, too, keeping an eye on China in case it wants to try moving against Taiwan. To help the island maintain its sovereignty, the Defense Security Cooperation Agency (DSCA) has been working on a potential arms deal.
On Tuesday, April 5, the Pentagon announced the US approved a possible $95-million deal to help Taiwan boost its air defenses. This comes on the heels of Beijing's many incursions; the communist country has flown military jets into the air defense identification zone (ADIZ) four times already this month, a noticeable increase in activity.
4 PLA J-11 entered #Taiwan's southwest ADIZ on April 5, 2022. Please check our official website for more information: https://t.co/I7GpZSaGvk pic.twitter.com/KnacGMbcoW

— 國防部 Ministry of National Defense, R.O.C. 🇹🇼 (@MoNDefense) April 5, 2022
According to the DSCA, the support package is expected to include military equipment and training to help maintain "political stability, military balance, economic and progress in the region."
The US approved a possible $95 million sale of military equipment, training, and other items to #Taiwan to boost the self-ruled island's air defenses, the #Pentagon said. https://t.co/NmstcAR2Y0

— The Epoch Times – China Insider (@EpochTimesChina) April 6, 2022
The tensions between Beijing and Taiwan have been escalating over the last several months, with Beijing consistently flying aircraft into the ADIZ in what's perceived as an intimidation tactic. This is reportedly the third arms deal between the US and Taiwan during Biden's term in office. Through the recent proposed arms deal, do you think Taiwan will be better equipped to defend itself should the need arise?
Copyright 2022, RepublicanPress.org