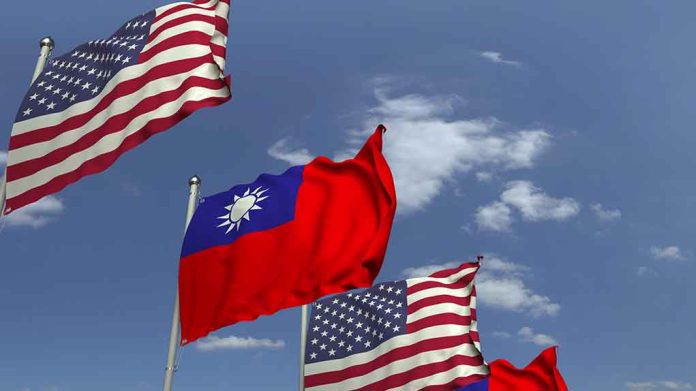 (RepublicanPress.org) – Even before Russian troops invaded Ukraine in February 2022, US officials feared China might try to annex Taiwan — by force. In March 2021, The Financial Times reported that the head of US Indo-Pacific Command, Admiral Philip Davidson, told senators that China could make a move sometime in the "next six years." Heeding the warning, the US started providing support in the form or arms sales to the tiny island nation. The State Department recently announced the US was planning to sell another round of weapons to Taiwan to add to its defense cache.
On March 2, the Associated Press reported the approval of $619 million worth of equipment to Taiwan, which includes missiles and other equipment for F-16 fighter jets already in the nation's possession. Island officials previously signed a contract to purchase F-16s from Lockheed Martin in the United States in 2020. The AP reported that the same company will provide the recently approved munitions for sale in conjunction with another company — Raytheon Missiles and Defense.
The U.S. has approved a round of arms sales to Taiwan consisting of $619 million worth of munitions for F-16 fighter jets. It's likely to be yet another point of friction between the U.S. and China, which claims the island as its own territory. https://t.co/thn90CuIAZ

— The Associated Press (@AP) March 2, 2023
The Department of State lists Taiwan as an important US partner in the Indo-Pacific region. Although America doesn't have any formal relations with the nation, the two countries have a strong unofficial relationship. The US government reported the United States and Taiwan are bound together by mutual values, economic ties, and people-to-people connections.
In February, VOA News reported that Foreign Minister Joseph Wu said the Taiwanese government needs help from the US to make the nation a difficult target for China in hopes that will deter an invasion. Around that same time, Fox News reported the US was sending 100 to 200 troops to train in Taiwan. For comparison, the United States usually sends about 30. Likewise, a group from the Taiwanese Army is participating in training with the Michigan National Guard here in the states.
Delivery of the munitions might take some time, however, as Taiwan reportedly said there have been timing delays between purchase and delivery from the US.
Copyright 2023, RepublicanPress.org