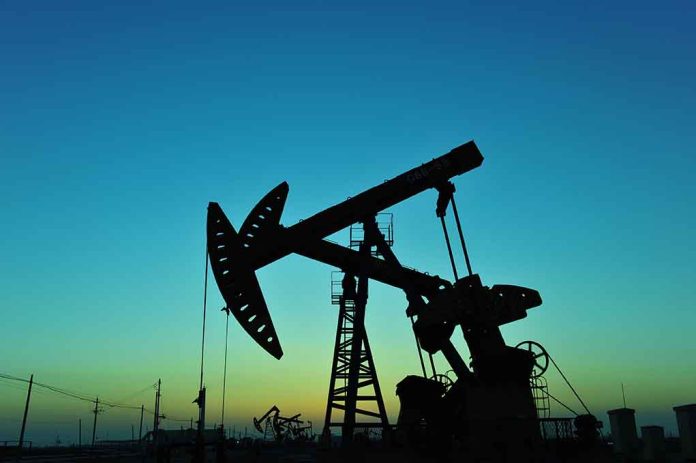 U.S. And Allies SCRAMBLING – Oil Price DISASTER Coming?
(RepublicanPress.org) – In an effort to financially cripple Russian President Vladimir Putin's economy and stop his country's invasion of Ukraine, many countries stopped purchasing oil from the country. But, the move is not without consequences, as the price of oil rises. Now, the United States and its allies in Europe are trying to find ways to stop oil prices from continuing to climb.
Why Oil Prices Are High
Many reports say the reason oil prices around the globe are high is due to the economic rule of supply and demand. While the world was getting back to work and lockdowns were lifted, the demand for gas increased, reaching near pre-pandemic levels in 2021.
Unfortunately, the oil supply did not meet the rising demand, causing oil prices to spike. OPEC+ repeatedly refused to increase output in order to lower prices. Additionally, the Russian oil ban and restrictions in many countries, including the United States and parts of Europe, are only adding to the supply problem, keeping oil expensive.
The US and Allied Response
US Treasury Secretary Janet Yellen recently announced the United States is talking to its European allies about forming what she refers to as a buyers cartel in an effort to cap the price of Russian oil. The aim is to keep the oil available for places like China and India to purchase with the hope of stabilizing the global price of the commodity. By using the oil cartel idea, the countries want to keep Russian oil in the market, but "limit the revenue" that will go back to Putin.
While the US and European Union (EU) have set an import ban on Russian oil, the EU is currently working to impose a ban on insuring Russian oil shipments. However, doing so could send oil prices skyrocketing. To avoid that problem, Yellen wants to gather support from the Group of Seven (G-7) countries (the US, UK, Japan, Italy, Germany, Canada, and France) to ask oil insurers to place a cap on the price of oil shipments. Taking the idea further, the countries are considering asking insurers to only cover Russian oil shipments traveling to countries under the proposed cap.
Ongoing Discussions
While the Biden administration still wants to punish Russia with sanctions for invading Ukraine, they also realize its impact on oil prices worldwide. The US is working through G-7 to figure out ways to continue pressuring Putin without causing more spikes in natural gas and oil prices.
According to a report from The Wall Street Journal, Rystad Energy Senior Vice President of Analysis Claudio Galimberti stated there is a delicate balance when dealing with Russian oil, its production, sanctions, and limits on exports. If the US and its allies aren't careful, oil prices per barrel could jump to $200, Galimberti said.
Copyright 2022, RepublicanPress.org