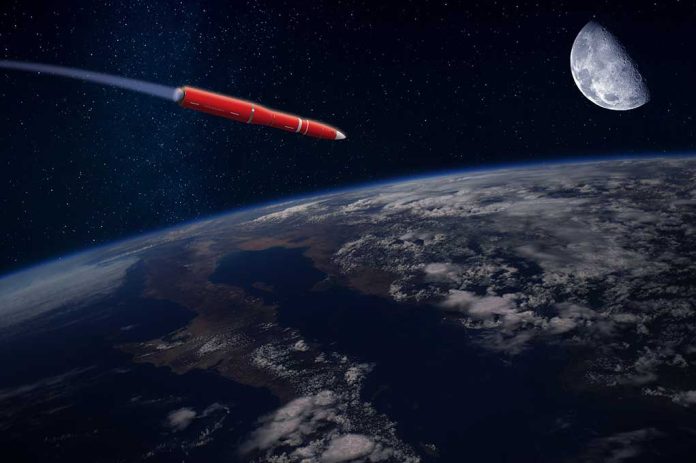 US Air Force Launches New Weapon That Should TERRIFY Our Enemies
(RepublicanPress.org) – The Department of Defense's (DOD) 2019 Missile Defense Review discussed China and Russia's efforts to develop advanced hypersonic missiles capable of traveling at speeds five times greater than sound (Mach 5). By May 2020, then-President Donald Trump was promoting the Pentagon's work on a "super-duper" missile. Two years later, the Air Force made a big announcement.
On Monday, May 16, the Air Force issued a press release announcing the successful release of an Air-launched Rapid Response Weapon (ARRW) system. Pilots from Edwards Air Force Base's 419th Flight Test Squadron (419th FTS) and the Global Power Bomber Combined Test Force (GPB CTF) launched the AGM-183A missile off California's southern coast on May 14.
The U.S. Air Force says it successfully test-fired a hypersonic missile from a B-52 bomber off the coast of Southern California on Saturday

— Lucas Tomlinson (@LucasFoxNews) May 17, 2022
Lt. Col. Michael Jungquist, the 419th's commander, confirmed that the team "flawlessly" executed the ARRW system's test. "Our highly-skilled team made history," he stated, adding Air Force was working on getting the "game-changing" weapon system into operation as quickly as possible.
The Defense Post reported that Air Force officials have worked with Lockheed Martin Corporation to develop the new ARRW system for three years. According to officials, the AGM-183A can fly at speeds of up to 15,345 mph, allowing it to evade missile defense systems and strike heavily-fortified and defended "high value, time-sensitive" targets from a long distance.
What do you think of this potentially game-changing technology?
Copyright 2022, RepublicanPress.org