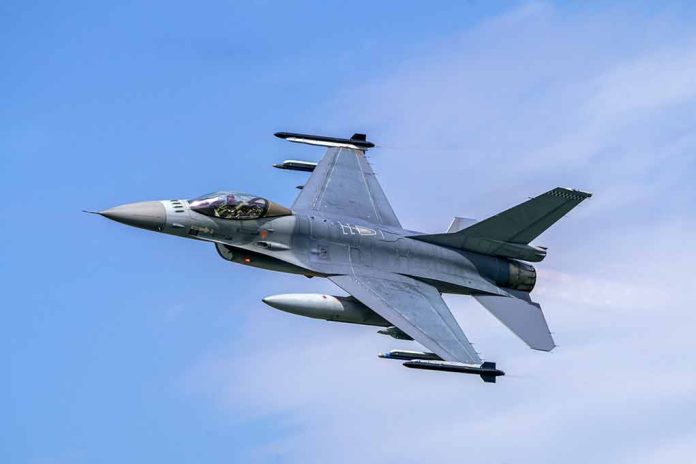 (RepublicanPress.org) – The F-16 Fighting Falcon is a highly versatile and widely used single-engine supersonic jet fighter aircraft that can handle air-to-air and air-to-surface combat missions. Designed by Lockheed Martin, the F-16 is known for its agility, advanced avionics, and accuracy, making it a go-to fighter jet for the US armed forces and other militaries around the globe. Ukraine has been requesting the equipment for a while to combat Russian forces, and there was some initial hesitation on the move. However, the Military Times reported President Joe Biden appeared to change his position in May.
Then, on August 17, Reuters reported that an unnamed US official said the wheels are finally in motion. The source said the US will send F-16s from Denmark and the Netherlands as soon as training to pilot the fighter jets is complete. Although the United States reportedly told the host countries it would approve the transfers as quickly as possible, the jets might not make it to Ukraine before next summer.
.@MinPres, @DefensieMin and I underlined the unwavering Dutch support for Ukraine. We specifically discussed the Dutch commitment to training Ukrainian pilots on #F16s and providing humanitarian, financial & military support. We will continue to do so for as long as it takes. 2/2

— Wopke Hoekstra (@WBHoekstra) July 12, 2023
Dutch Foreign Minister Wopke Hoekstra announced on social media that his country not only fully supports Ukraine, but the Dutch would train the pilots and assist the warring country for as long as necessary. Hoekstra represents just one of 11 countries committed to training Ukrainian pilots to fly the Fighting Falcon properly. The Military Times reported that Danish Defense Minister Jakob Ellemann-Jensen said the training would start this month. The pilots would need at least six months of training to fly the F-16s properly.
18th Army Aviation Brigade spokesperson, Captain Yevgen Rakita, confirmed that war in this day and age needs aviation capabilities. The Associated Press reported Russia currently has the advantage in the skies, but introducing the Fighting Falcon could tip the scales in Ukraine's favor. For now, Kyiv is using the MiG-29 and Sukhoi jets, which don't have the cutting-edge technology and combat capabilities of the F-16.
Copyright 2023, RepublicanPress.org