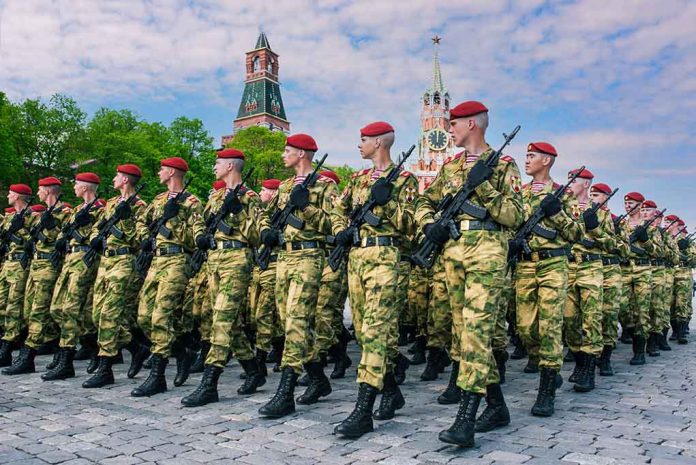 (RepublicanPress.org) – Russian President Vladimir Putin continues demonstrating his willingness to use military might to safeguard the Kremlin's influence over countries that once belonged to the former Union of Soviet Socialist Republics (USSR). For example, Kremlin officials recently dispatched Russian paratroopers to Kazakhstan after anti-government protesters attacked public buildings.
On Monday, January 10, Putin declared victory after Russian troops clashed with violent demonstrators throughout cities in Kazakhstan. Violence reportedly died down, while traffic and business hours mostly returned to normal. The nation's president, Kassym-Jomart Tokayev, described the violent uprising as an attempted coup d'etat. Putin characterized the assault as a foreign-backed uprising and vowed to protect other former Soviet states.
Russian Troops Will Stay to Finish Job in Kazakhstan, Putin Says:
Blaming "internal and external forces" for the unrest, Putin set no deadline for the withdrawal of the forces Russia sent to Kazakhstan, raising the possibility they could stay indefinitely.https://t.co/Jv33SlkiQk

— Julia Davis (@JuliaDavisNews) January 10, 2022
The protests began on January 2, and state-run media outlets reported that roughly 164 people died in the violent clashes. Meanwhile, a national curfew and state of emergency remain in effect throughout Kazakhstan. An Interior Ministry spokesperson told reporters that officials had detained nearly 8,000 since the demonstrations started.
The clash comes in the wake of increased tension between the United States and Russia over its deployment of thousands of military troops near Ukraine. President Joe Biden spoke with Putin as part of an effort to de-escalate tensions over Ukraine on December 30 and followed up with a call to Ukrainian President Volodymyr Zelensky a few days later.
However, tensions continue mounting between Washington and Moscow over Russian military movements throughout Eastern Europe.
Copyright 2022, RepublicanPress.org