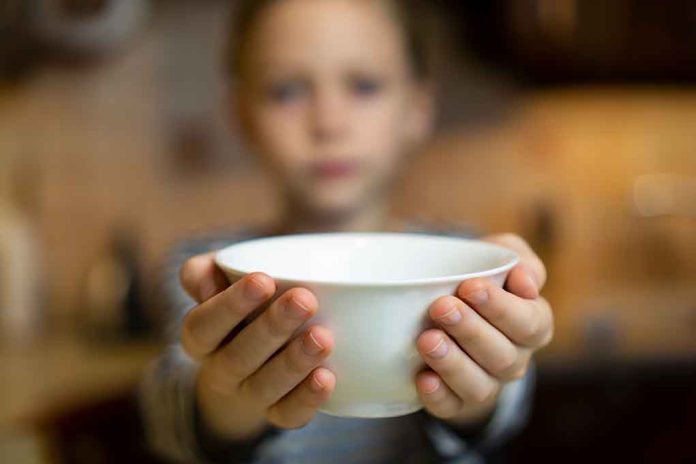 New Report Sheds Light On HORRIFYING Crisis – This Is Heartbreaking
(RepublicanPress.org) – While many in the United States can run to the grocery store when they run out of food, that's not true for everyone in America or around the world. The United Nations (UN) recently released a startling report about the number of people who are unsure when they will get their next meal. The study showed the amount of hungry humans of all ages skyrocketed from 2019 by around 150 million worldwide.
Details About the Report
The UN pointed to problems with the supply chain caused by the war in Ukraine, price increases, and other factors that especially impact those with low incomes. In 2021, about 2.3 billion people experienced food insecurity. Unfortunately, the organization predicted the problem would only worsen. It reported that by 2030, about 8% of the world will be "undernourished."
Sadly, with the high price of food and other factors, nearly 3.1 billion individuals in 2020 could not to afford to eat healthily. The consequences of these facts could be malnutrition, sickness, and disease. The World Bank reported about 10 million of the planet's residents slip into poverty for every 1% increase in the price of food. Worse still, WHO Director-General Tedros Adhanom Ghebreyesus alleges 11 million people die each year from unhealthy eating habits.
Although not the entire issue, the fighting in Ukraine is impacting the current food supply, as the country and its invader — Russia — normally make and export about a third of the world's barley and wheat. In addition, Russia is a heavy hitter when it comes to fertilizer farmers worldwide use to enhance crop production. These commodities are essential, but with ports blocked and agriculture suffering from the war, the products are unavailable.
What Do We Do?
Looking at the harsh reality, many wonder how to stop the tragedy. The UN stated the only way to reverse course is for people, businesses, and governments to band together and bring cash to the table. Donations to organizations like UNICEF, which make it their mission to feed hungry children, will go a long way to ensuring individuals have access to the sustenance they need to survive and thrive. The organization's Executive Director Catherine Russell stated there isn't any "time to waste."
What do you think about the food insecurity issue around the world? Do you have any ideas that may prevent this tragedy?
Copyright 2022, RepublicanPress.org