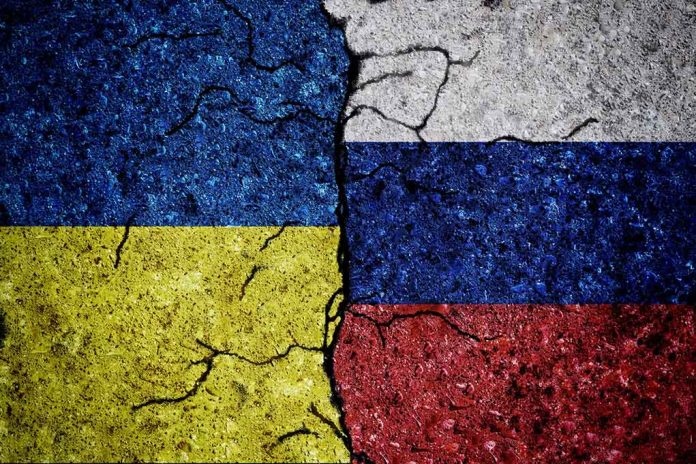 (RepublicanPress.org) – Delegates from 13 countries recently met in Ankara, Türkiye, at a meeting of the Parliamentary Assembly of the Black Sea Economic Cooperation (PABSEC) to hash out details regarding the export of grains, fertilizer, and other commodities from local ports. However, things took a turn for the worse when a member of Ukraine's delegation threw punches at a Russian official during a scuffle over a Ukrainian flag.
On May 4, Oleksandr Marikovski, a member of Ukraine's parliament, posted a video of the incident on his Facebook account. The clip shows him waving a Ukrainian flag behind Russian delegate Ola Timofeeva while she's filming herself at the meeting.
Suddenly a man, later identified as the Russian delegation's secretary Valery Stavitsky, walked up to Marikovski, grabbed the flag, and started walking away with it. Within a split second, Marikovski caught up with him, recovered the flag, and began throwing punches.
Ukrainian lawmaker Oleksandr Marikovski launched several blows to the head of a Russian official.https://t.co/iwZhsuWEyz

— HNGN (@HNGNcom) May 6, 2023
At that point, several individuals stepped in to separate the two men. Marikovski turned back several times toward Stavitsky, muttering something indecipherable under his breath. One of the other men attempting to break up the scuffle can be heard telling the men, "please, no fight."
It's unclear exactly how many punches Marikovski threw and if any landed due to the woman's presence and other individuals in the clip, although reports have stated he landed blows. He called Stavitsky "Russian filth" and warned him to keep his "paws away from our flag… [and] Ukraine" on his Facebook post.
The Russian state-owned news agency Tass reported that officials transported Stavitsky to a nearby hospital as a precautionary measure and received assistance from consulate officials.
Leonid Slutsky, a member of Russia's lower house, expressed outrage, telling Russian state media that kind of behavior was "more appropriate for a zoo enclosure" than the gathering of a "serious international organization." Continuing, he accused the "Kyiv regime" of supporting "political buffoonery and disrespectful behavior."
The following day, the acting head of Russia's PABSEC delegation, Olga Timofeyeva, discussed the incident with reporters. Without naming him, she confirmed that Stavitsky was doing well and recovering at his hotel.
Copyright 2023, RepublicanPress.org