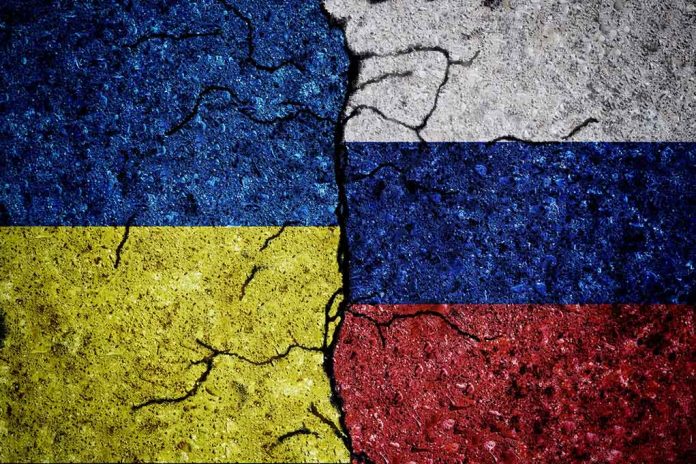 Hundreds of Bodies in MASS Grave – Ukraine's Horrific Discovery
(RepublicanPress.org) – US officials originally predicted Ukraine would fall to Russia within days, according to a February Newsweek report. Yet, against all odds, the Ukrainian military recently went on the offensive and broke through Russian lines in Kharkiv Oblast. However, the liberators reportedly found a found grave outside one of the region's cities shortly after recapturing it.
The Kyiv Independent recently reported that Ukrainian officials discovered a mass burial site containing about 440 graves outside Izium on September 15. Local adjudicator Dmytro Lubinets released a statement the following day announcing that officials uncovered evidence of war crimes while conducting exhumations.
According to Lubinets, Russians tied the hands of numerous Ukrainian servicemembers behind their backs and shot them. Several hours later, Kharkiv Oblast Governor Oleh Synyehubov said that 99% of the exhumed bodies "showed signs of [a] violent death."
⚡️ Governor: Almost all bodies exhumed from mass burial site in Izium 'show signs of violent death.'

Kharkiv Oblast Governor Oleh Syniehubov said that among the bodies exhumed from the mass burial site on Sept. 15, "99% showed signs of violent death."

— The Kyiv Independent (@KyivIndependent) September 17, 2022
Additionally, Ihor Klymenko, the head of Ukraine's national police, told Ukraine's government portal that officials discovered 10 torture chambers in Kharkiv Oblast, six in Izium, and two in the neighboring city of Balakliia.
According to UN News, Liz Throssell, a spokesperson for the United Nations High Commissioner for Human Rights, told reporters the UN would send monitors already located in Ukraine to Izium. She said the officials would try to establish what happened to the individuals buried at the mass grave.
I call for the speedy establishment of a special international tribunal that will prosecute the crime of aggression.

— Jan Lipavský (@JanLipavsky) September 17, 2022
Likewise, Jan Lipavský, the Czech Republic's Minister of Foreign Affairs and current head of the European Union (EU), called in a Twitter post for the "speedy establishment" of an international tribune to prosecute war crimes related to mass graves left behind in Ukraine by Russian troops.
Copyright 2022, RepublicanPress.org