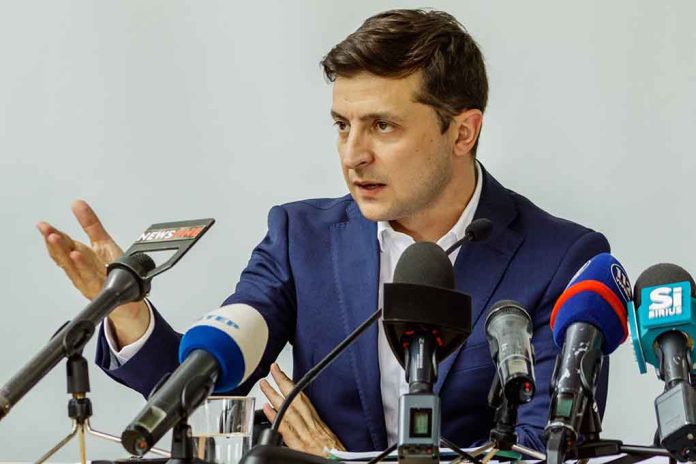 WAR CRIMES Allegations – Look Who Ukraine Is Going After Now!
(RepublicanPress.org) – Noted American economist and author Edward Van Dyke Robinson Ph.D. famously argued in his 1900 treatise, "War and Economics in History and in Theory" that all wars are economic. He concluded his 49-page essay noting that as long as wars persist, they must remain a "national business undertaking, designed to procure or preserve foreign markets" to ensure domestic tranquility.
It appears that Ukrainian President Volodymyr Zelenskyy may have taken that message to heart in light of his recent move to target the leaders of major Western banks for indirectly financing Russian oil traders.
Ukraine Pursues Charges Against Major Western Banks
On July 26, Zelenskyy's top economic advisor, Oleg Ustenko, sat down for a wide-ranging interview with CNBC News to discuss the financial ramifications of the Ukraine-Russia conflict. During the discussion, he confirmed that Ukrainian prosecutors are pursuing war crimes charges against the heads of several Western banking institutions like Citigroup Inc., HSBC, and JPMorgan Chase Bank for indirectly financing Russia's war efforts.
Ustenko said there was "no doubt that Russia [was] committing war crimes… against Ukrainians," adding that anyone financing those efforts was facilitating those criminal efforts and should face prosecution. Continuing, he said that law enforcement officials likely wouldn't charge the banks themselves. Instead, they would target the leaders and managers of those institutions.
Business Insider recently reported that Ustenko previously called on the heads of several Western banks to sever their ties with Russian oil companies. He asked them to sell any shares they held in Russian energy companies like Gazprom and Rosneft.
Ukrainian officials also sent letters to the CEOs of several major banks in July, including JPMorgan Chase, HSBC, and Citigroup, accusing them of "prolonging" the war. The letter also advised that Ukraine would exclude financial institutions refusing to sever their Russian ties from profiting from future reconstruction projects.
Additional Prosecutions
Ukrainian officials continue pursuing war crime convictions related to the protracted invasion. For instance, a 21-year-old Russian enlisted soldier received a life sentence in May after he pleaded guilty to murdering a 62-year-old civilian.
According to the Sun Herald, Ukrainian prosecutors have documented more than 20,000 possible war crimes since the war began, and police officers have exhumed hundreds of bodies. However, so far, law enforcement officials have only identified 127 suspects and arrested 15, but remain hopeful they will eventually bring the perpetrators of those oft times vicious crimes to justice.
Returning to Dr. Robinson, his essay suggested taking the Latin motto "Si vis pacem, para bellum" (If you desire peace, prepare for war) and adding "Si vis bellum, para pacem" — If you want war, prepare for peace.
What do you think of Zelenskyy's plan to hold Western banks accountable for their practices? Will it prepare Ukraine for future war, peace, or both?
Copyright 2022, RepublicanPress.org