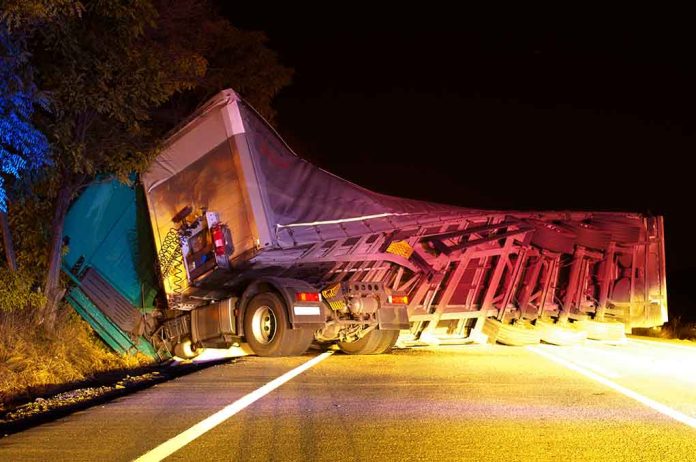 Two Men INDICTED in Heinous Crime – Dozens of People Dead!
(RepublicanPress.org) – In June, 53 adults and three children senselessly died, and 11 more were injured in the back of a tractor-trailer after two Texas men smuggled them into the US illegally. Like others in the past, human smugglers trapped the migrants in the vehicle, where they were left to die. The case against the suspects is now moving forward.
On July 20, a grand jury indicted Homero Zamorano Jr. and Christian Martinez of Palestine on various charges related to the incident. If convicted, they could face capital punishment in the Lone Star State.
Defendants Indicted in Tractor Trailer Smuggling Incident That Resulted in 53 Deaths https://t.co/sNfrIwPIT1

— U.S. Attorney WDTX (@USAO_WDTX) July 20, 2022
Homeland Security Investigations (HSI) and the San Antonio Police Department (SAPD) responded to an emergency call about a suspicious truck. When officials opened the back of the vehicle, they found both suffering and dead individuals. Authorities discovered and arrested Zamorano, who was hiding nearby.
Upon further investigation of surveillance footage and phone records, police tied Zamorano and his partner, Martinez, to the heinous crime. The suspects are charged with multiple counts of conspiracy to transport illegal migrants resulting in their death and "serious bodily injury." It's up to the state's attorney general if he will seek the death penalty or life in jail. They are being held without bail.
What sentence do you think these men should face for their crimes if convicted?
Copyright 2022, RepublicanPress.org