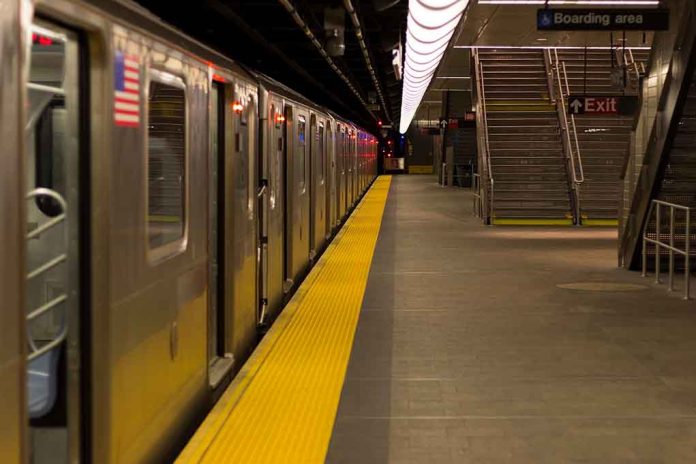 (RepublicanPress.org) – The prevalence of violent crime in New York City has been a significant source of controversy in recent months. In an extraordinary twist of fate, a group of teens attacked a local weatherman after he came to the aid of another victim using the city's subway system.
On January 21, Fox News meteorologist Adam Klotz was riding the 1 Train when he noticed a group of teenagers harassing an older gentleman. The weatherman told the kids to stop. Instead of complying, they allegedly redirected their aggression towards him, beating the weatherman on the train.
The suspects allegedly followed Klotz into the station, where they forced him to the ground and kicked him about the face and body. Authorities then arrested the suspects: a pair of 15-year-olds and a 17-year-old. Despite his injuries, Klotz posted a brief statement on his Twitter account, stating that his pride hurt worse than the beating.
while the headline I just read, "viciously beaten by teens," is true, it's doing way more damage to my ego than the physical beating did

— adam klotz (@AdamKlotzFNC) January 22, 2023
Although Klotz addressed his situation with humor, subway crimes themselves are no laughing matter. The man's encounter, however, sheds light on some of the dangers of mass transit in NYC.
According to CBS News, the NYPD reported a decrease in crimes on the subway for the year, but it didn't appear that way around the time of Klotz's attack. Two other incidents over the weekend ended with one person dead and the other in the hospital.
i'm glad we are getting some attention on subway crime, but being forever introduced as, "you might know him from such things as getting viciously beaten by teens," is gonna be tough

— adam klotz (@AdamKlotzFNC) January 23, 2023
In October 2022, the New York Post reported that murders in the NYC subway system ballooned to their highest rate in a quarter of a century.
According to recent data, the number of murders on the NYC subway system ranged from one to three from 2008 to 2019. However, those figures spiked in the last three years, with six murders occurring in 2020 and eight in 2021. Authorities haven't compiled a complete tally for 2022 but confirmed seven murders took place between January 1 and October 11.
Copyright 2023, RepublicanPress.org