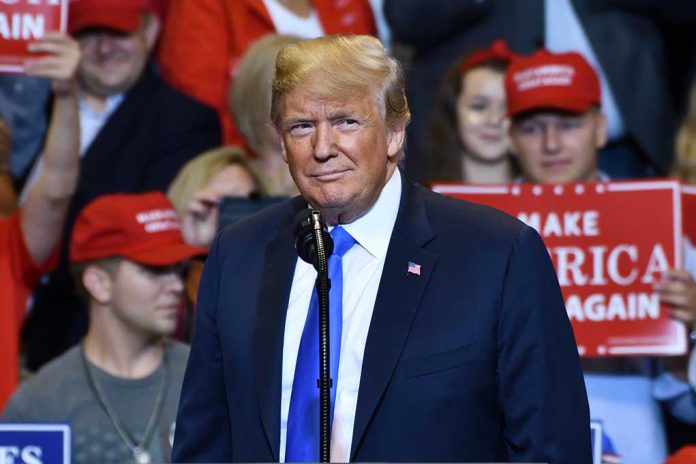 Is This a Surefire Sign That Trump Is Running in 2024?
(RepublicanPress.org) – Ever since he left office, people have speculated about whether or not former President Donald Trump will make another bid for the White House. The previous US leader has yet to make anything official, but he has hinted at the possibility in the past — and on July 14, he told New York Magazine he already made a decision, but that he still wasn't sure when he would announce it. Reportedly, the ex-POTUS has been meeting with several high-profile supporters to discuss his possible return to Washington DC.
The alleged invite-only gatherings have taken place with higher-ups from the Republican Party in places like Las Vegas, Houston, and Nashville. The topic of discussion has allegedly been surrounding the subject of when he should tell the public he is running in 2024.
NEWS: Inside Trump's secret '24 roadshow

Trump has in recent weeks held invite-only dinners with small groups of donors and other top Republicans in Nashville, Houston, and Las Vegas to sound them out

When he should announce has been a topic at eachhttps://t.co/jyHcrK57x1

— Alex Isenstadt (@politicoalex) July 13, 2022
Phil Ruffin, a well-known casino owner and friend of the former president, pushed for Trump to announce his run in the near future. In fact, many people he's been meeting with are on the same page. They just don't agree on when he should launch his campaign; before or after the midterm elections.
The politician's leadership PAC, Save America, has been hosting informal dinners to discuss his best options and to talk about recent issues plaguing the country. The attendees have been giving Trump feedback — good and bad — in an attempt to help him be better prepared to win in 2024. They are urging him to focus more on policy rather than continue with his claims about the 2020 election.
When do you think Trump will make the announcement?
Copyright 2022, RepublicanPress.org