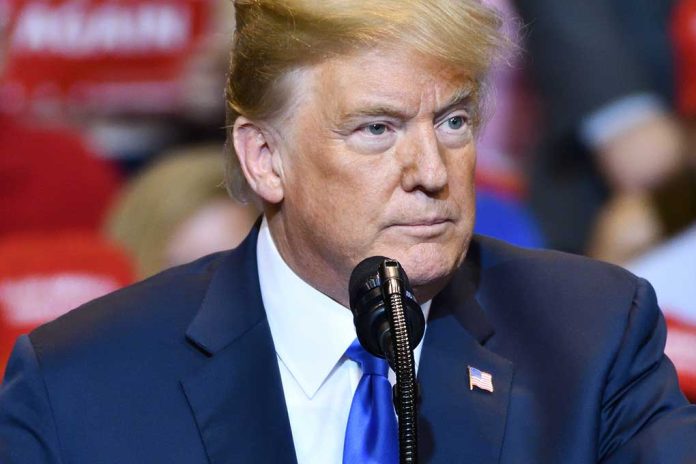 (RepublicanPress.org) – New York's Democratic Attorney General Letitia James set her sights on former President Donald Trump years ago. Her 2018 campaign website lashed out at Trump, claiming that his ascension to the Oval Office revealed what it looked like "when shameless public corruption and 'policy for sale' became a central part" of a sitting president's "governing philosophy." She also vowed to "vigorously investigate Trump businesses… [and] litigate against Trump charities" if elected.
True to her word, James launched a series of civil and criminal cases against Trump, his family members, and the Trump Organization shortly after assuming office in January 2019.
Donald Trump vs. New York Attorney General Letitia James
On December 20, 2021, Trump filed a lawsuit against James in the US District Court for the Northern District of New York as part of an effort to block the NY attorney general's ongoing investigation into him and his business dealings. However, a federal judge dismissed that case in May 2022, and he subsequently withdrew his pending appeal before the United States Second Circuit Court.
Then, in November 2022, Trump filed another lawsuit against James in the US District Court for the Southern District of Florida's West Palm Beach Division. The civil complaint accused the state attorney general of launching a "war of intimidation and harassment" against the former POTUS, family members, associates, and business interests. Additionally, the lawsuit made more than a passing mention of James' 2018 campaign promises.
On January 20, 2023, the former president voluntarily dropped that lawsuit shortly after the judge overseeing that case ordered Trump and his attorney to pay nearly a million dollars in sanctions in a lawsuit filed in June 2022 against former political rival Hillary Clinton. District Court Judge Donald Middlebrooks ruled that Trump and his legal team pursued a "continuing pattern of misuse of the courts… [to] dishonestly advance a political narrative."
The Democratic-Led State of New York vs. Donald Trump
It's no great secret that Democratic lawmakers, executives, and prosecutors in New York have been opposing former Trump for years.
The now-disgraced former governor, Andrew Cuomo, initiated an effort to close a double-jeopardy loophole barring state prosecution of crimes people were found guilty of in federal court in 2018. Democrats said they were trying to stop Trump from abusing his pardon power. The following year, the state's Democratic-led Assembly and Senate passed SB 4572, removing that restraint, and the governor signed the measure into law.
James applauded the bill's passage in a press release issued by her office. She said the "critical new law" prevented presidents from using pardons "unfairly" to help family members or associates "evade justice." James concluded her remarks by warning that "no one is above the law," adding that SB 4572 would "provide a reasonable and necessary check on presidential power."
Epilogue
On January 6, New York Supreme Court Justice Arthur Engoron issued a written order denying Trump's motion to dismiss a civil fraud complaint filed by James. The lawsuit accuses the former president, three of his adult children, and the Trump Organization of inflating his assets by billions of dollars. Justice Engoron also denied a separate motion filed by Ivanka Trump.
Copyright 2023, RepublicanPress.org