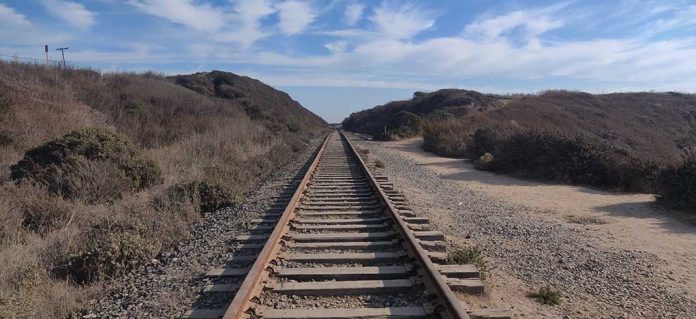 (RepublicanPress.org) – A freight train carrying five tanker cars full of vinyl chloride derailed near the Ohio-Pennsylvania state line on February 3. Three days later, Norfolk Southern Railroad officials decided to execute a controlled burn of the volatile chemical to eliminate the risk of an explosion. Governors Mike DeWine (R-OH) and Josh Shapiro (D-PA) ordered the immediate evacuation of the area surrounding East Palestine, a township straddling both sides of the border. The state heads lifted those orders on February 9, but questions regarding health risks to residents continue.
Reuters reported that "hundreds of irate residents" of East Palestine met with local officials at the community's high school gym to demand answers regarding potential health risks from the derailment and resulting chemical burn. Mayor Trent Conaway stressed the need for "citizens to feel safe in their own homes" but conceded that he needed help.
Listen to East Palestine Ohio Mayor Trent Conway who lives there.

"The people want answers, I want answers…"

"Norfolk Southern didn't show up, they didn't feel it was safe."

"We need our citizens to feel safe in their own homes."

"I'm not leaving, https://t.co/JoKz6VVUAw…

— Christy Franklin (@Alisaisil) February 16, 2023
On February 16, DeWine's office released two updates on the situation in East Palestine. The first notice advised the governor spoke with White House officials seeking federal help. He asked for the assistance of the Department of Health and Human Services and the CDC. The notice also noted that DeWine's administration had been in daily contact with FEMA to discuss the community's needs. However, the agency said the township didn't qualify for federal assistance "at this time."
The second update detailed ongoing efforts by state agencies to further limit the potential health risks posed by the derailed train. For instance, Ohio's Environmental Protection Agency "put plans in place" to prevent remaining contaminants from "washing into local waterways."
The Ohio Department of Natural Resources is investigating the deaths of an estimated 3,500 aquatic animals likely caused by the release of contaminants into a portion of Beaver Creek before the initiation of mitigation efforts in the wake of the crash. Likewise, the Ohio Department of Agriculture is performing a "diagnostic work-up" of tissue samples collected from a bovine calf that died shortly after the burn-off operation.
White House press secretary Karine Jean-Pierre updated reporters on administration efforts to assess health risks posed by the crash during her daily press briefing on February 16. She confirmed that the EPA Administrator was visiting with East Palestine officials later that day. She also advised that the White House deployed teams from the CDC and Department of Health and Human Services to help conduct "public health testing and assessments."
The Ohio Department of Health announced on February 20 that it was starting up a clinic in the area to address the concerns and questions of residents.
Copyright 2023, RepublicanPress.org