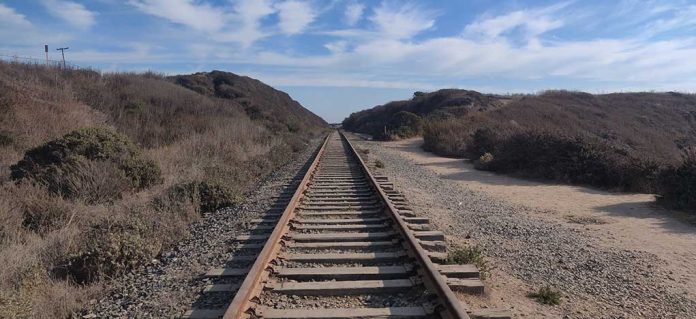 (RepublicanPress.org) – The recent crash of a freight train carrying a toxic load in Montana created immediate concern in the wake of the derailment of another one carrying dangerous chemicals near the Ohio-Pennsylvania state line in early February.
On Sunday, June 25, The Associated Press (AP) reported that a Montana Rail Link (MRL) freight train carrying hazardous materials plunged into the Yellowstone River on Saturday after a bridge collapsed in Stillwater County, roughly 42 miles west of Billings. The county's head of emergency services confirmed that several cars carrying molten sulfur and hot asphalt ended up in the rushing waters below the bridge.
MLR sent an update about the incident to media outlets on Saturday at 3 p.m. local time. It noted that an "initial assessment" of the situation indicated that both the sulfur and asphalt "solidify rapidly when exposed to cooler temperatures." It also reported that two railcars carrying sodium hydrosulfide, an acidic chemical, didn't enter the water and "initial air quality assessments" showed that no fumes escaped from them.
The latest on the weekend's train derailment/bridge collapse in Montana that spilled molten sulfur and asphalt into the pristine Yellowstone River.

Billings, the largest city in Montana, has stopped drawing possibly contaminated water from the river. pic.twitter.com/OXLzeki5oT

— The Recount (@therecount) June 26, 2023
On Sunday evening, MRL issued an additional update advising that it successfully transloaded the car closest to the river carrying sodium hydrosulfide. The advisory said it would be re-railed and transported to a secure location. The statement noted that it hired a contractor to take water samples with oversight provided by the Montana Department of Environmental Quality and the US Environmental Protection Agency.
Monday evening, the Stillwater County Disaster and Emergency Services (Stillwater DES) issued a press release detailing efforts to remove toxic substances from the crash site. It confirmed that workers successfully moved the sodium hydrosulfide into "stable railcars and moved [it] to safety." Additionally, construction crews removed three cars containing fertilizer and one car with asphalt, leaving four additional cars containing asphalt on the bridge's eastern side.
Ten railcars remain in the river, including six with asphalt, three with molten sulfur, and one containing scrap metal. Officials plan to remove them as soon as possible, but their current condition remains unknown. A dive team arrived on Monday to help assess the situation.
No injuries were reported in the crash. The head of the Stillwater DES said there was no immediate danger to workers clearing the crash site since any leaked hazardous materials were being diluted by the river. Drinking water intakes located downstream were shut down until officials could evaluate the environmental impact of the incident.
Copyright 2023, RepublicanPress.org