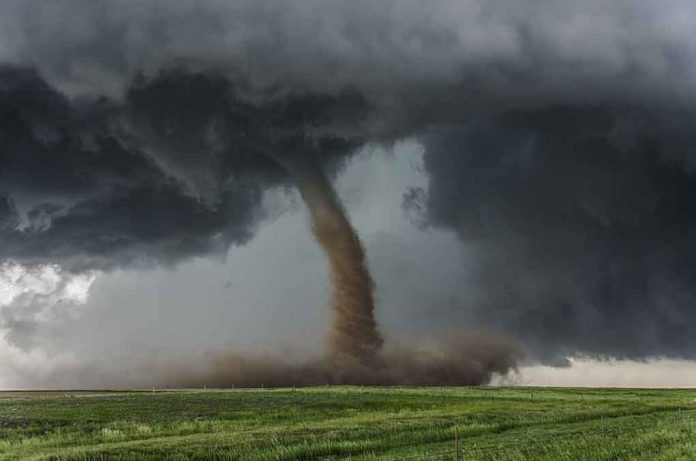 (RepublicanPress.org) – According to data from the National Oceanic and Atmospheric Administration (NOAA), Texans have experienced over 20 tornadoes so far this year. Since 2019, The Lone Star State has experienced up to 184 cyclones yearly, costing the state precious lives and billions in damages. According to data from 1950 through 2021, most of the incidents occurred during the months of April through June. As the season nears its close, the state is once again picking up the pieces after a deadly storm.
On June 15, a deadly tornado traveled through Perryton, Texas, taking the lives of three residents and injuring about 70 more. Originally, rescue personnel was searching for missing people after the storm passed, but News Channel 10 reported that the deputy sheriff in Ochiltree confirmed all the people affected by the tragedy had been accounted for.
Perryton, #Texas #tornado damage. Video by Jaxon Lehnert pic.twitter.com/pJ1DueVm3d

— Kaitlin Wright (@wxkaitlin) June 16, 2023
Becky Randall, 66, was among those who died. According to NBC News, her daughter-in-law, Randi Cunningham, described her as someone who "lived for [the] town and the people in [the] town." Cindy Bransgrove, 67, another one of the victims, was at a food bank when she passed away during the storm. The third victim was Matthew Ramirez, 11, who was inside his family's trailer when he died.
Hundreds of homes are gone and at least five people have been killed across the South due to severe weather. Three people that died were from Perryton, Texas, where a confirmed tornado ripped through the small town, devastating it. @ABCMireya reports. https://t.co/EKPtD8j5O8 pic.twitter.com/R4SrMHZT40

— World News Tonight (@ABCWorldNews) June 17, 2023
Texas Governor Greg Abbott declared a state of disaster that he said would "streamline" the state's ability to assist those affected by storms in Ochiltree and Cass counties. The order mobilized several departments to work together and supply the resources to deal with the aftermath in Perryton. He also issued a statement saying he was praying for the community and the families who lost loved ones or were injured during the event.
On June 19, the Texas Division of Emergency Management (TDEM) gave an update on the status of the recovery efforts in the affected town. News Channel 10 reported the department assured that the water is safe to drink, but natural gas would likely be out for up to six weeks. TDEM also said there would be temporary showers set up for those who need a place to clean up and a cooling center for residents who need a break from the Texas heat. Mental health services were also made available for the disaster-stricken community.
Copyright 2023, RepublicanPress.org