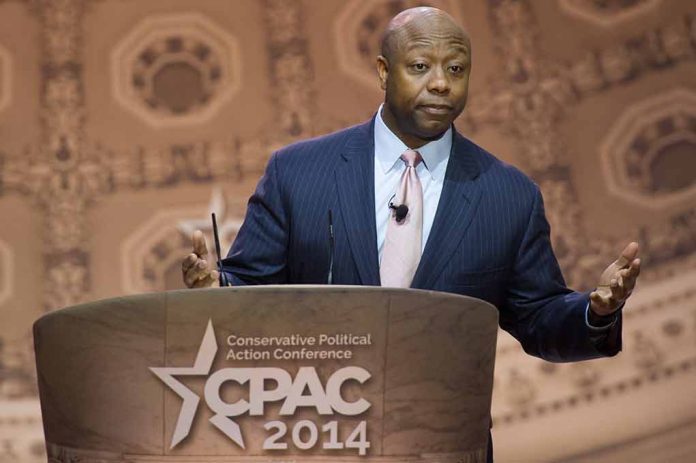 (RepublicanPress.org) – Trust In The Mission (TIM) Political Action Committee (PAC) is a Super PAC created to support Senator Tim Scott's (R-SC) campaign for president in 2024. According to recent news reports, former Senator Cory Gardner (R-CO) and Republican strategist Rob Collins are running the Super PAC. The committee is gearing up to push a massive ad campaign as the primary season gets underway.
Tim Scott-boosting super PAC drops $40 million in fall ad reservations https://t.co/pgsOJDwoYD

— POLITICO (@politico) July 18, 2023
On July 18, POLITICO reported that the group is spending $40 million to reserve ad slots for the fall before prices jump. The advertisements will run on television and online starting September 7, following the committee's summer ad campaign. The TV ad will begin in Iowa, New Hampshire, and Scott's home state of South Carolina. The Super PAC is also reserving slots on national cable networks.
According to a poll average reported by FiveThirtyEight, the South Carolina senator is sitting toward the end of the Republican primary candidate pack. Scott's average sits at just 3% of the vote, bested by former South Carolina Governor Nikki Haley with 4.4%, GOP candidate Vivek Ramaswamy with 5.6%, and former Vice President Mike Pence coming in at 6.8%. The top two contenders for the GOP remain Florida Governor Ron DeSantis and former President Donald Trump.
However, it's unclear what will happen going forward with Scott getting his ad positions in early for the fall. The Republican primaries happen in January in Iowa, February in South Carolina, and March in New Hampshire. Scott's ads will run through January, butting up against the first primary election.
TIM PAC co-chair Rob Collins released a statement to Politico, announcing that the committee reserved slots early to get the most out of their dollars. He said the group was able to "lock in the best inventory, times, and locations" because they got in before everyone else. Collins predicted prices would soon skyrocket, leaving the competition in a less favorable financial spot.
Copyright 2023, RepublicanPress.org