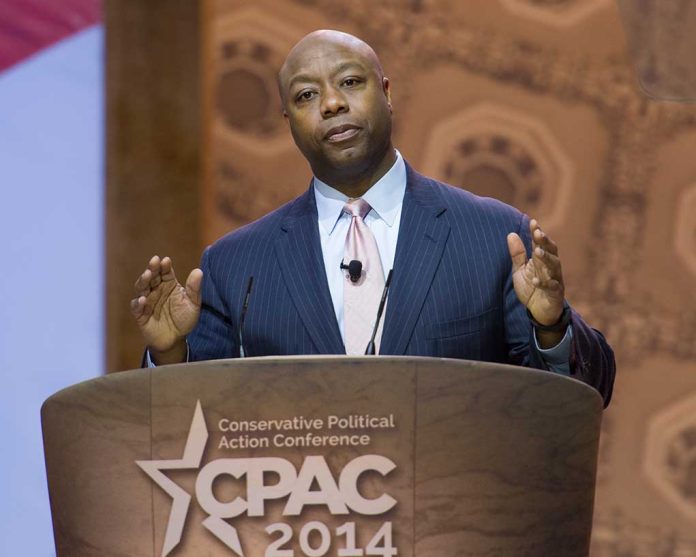 (RepublicanPress.org) – The first person to officially announce their candidacy for the 2024 presidential election was former President Donald Trump. His competitors so far for the Republican nomination include former Cranston, Rhode Island, Mayor Steve Laffey, ex-South Carolina Governor Nikki Haley , entrepreneur Vivek Ramaswamy, businessman Perry Johnson, former Arkansas Governor Asa Hutchinson, and talk radio show host Larry Elder. Now, another politician may be joining the race.
On April 30, the New York Post reported that Senator Tim Scott (R-SC) hinted at an official run while speaking at a town hall meeting in Charleston. The 57-year-old said he and his team would have a "major announcement." He also said it was "time to make the final step."
Sen. Tim Scott says 'major announcement' set for May 22 as he explores White House run https://t.co/d8LVGf87ci pic.twitter.com/hXjiTi6GJJ

— New York Post (@nypost) May 1, 2023
Earlier in the month, the Associated Press wrote about Scott's announcement that he had formed an exploratory committee, which allowed him to start raising money to conduct polls and travel while considering a presidential bid. The move is a way for a potential candidate to test the waters. When he formed the committee, he said Democrats had divided the country, and he described himself as the "radical left" antidote fighting against a "liberal agenda." Scott said he has a strong record of supporting conservative priorities, and the politician has already shown he can raise a lot of money — which could position him as a viable GOP contender.
Britannica states that Scott has been in politics since 1995, when he took a seat on the Charleston County Council. In 2010, he was elected to the House of Representatives and was appointed to the Senate in 2013 by former South Carolina Governor and, perhaps, presidential rival Nikki Haley. He has remained in the Upper Chamber representing the people in The Palmetto State ever since.
According to the New York Post, Scott is expected to make his big announcement on May 22.
Copyright 2023, RepublicanPress.org