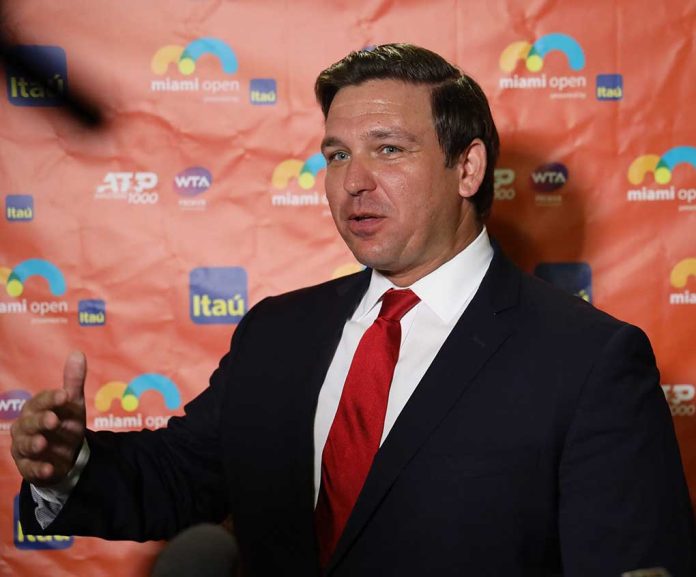 (RepublicanPress.org) – The 2024 presidential race is already heating up with several candidates on the Republican side. Many polls list former President Donald Trump as the frontrunner for the GOP, but the person many people see as his closest contender hasn't even thrown his hat in the ring yet — Florida Governor Ron DeSantis. Although he hasn't formally announced his campaign for the White House, DeSantis has already had a couple of endorsements.
On April 5, Representative Thomas Massie (R-KY) announced his formal support for DeSantis in the GOP primary, even though it was Trump who endorsed him for Congress in 2022. The Kentucky lawmaker said DeSantis has been a friend of his for a long time, and they worked together in the US House of Representatives. Massie said the governor is a fighter who knows what it means to put "Americans first" and is the right choice to lead the country.
The congressman's statement said he hopes his support will help encourage DeSantis to make the leap to run for the Oval Office in 2024.
Honored to endorse my friend Ron Desantis!
#DeSantis2024 @NvrBackDown24 pic.twitter.com/9UZRCiyqQp

— Thomas Massie for Congress (@MassieforKY) April 5, 2023
Massie isn't the only one to throw his endorsement toward the Florida governor. On March 15, Mediaite reported that Representative Chip Roy (R-TX) also stands behind DeSantis for the GOP primary. Roy called the state leader "vibrant and energetic" with the "courage" to take the country in a new direction. He seemed especially impressed with DeSantis' anti-woke stance in The Sunshine State. According to the source, Roy's statement included a slight dig at the former president, calling for someone "younger" who could take the reigns and offer two terms of "transformational change."
According to a previous report from The Hill, DeSantis could announce his campaign for president as early as May after his state's legislative session ends. The governor has already started making some rounds throughout the country to promote his new book and possibly get his name out on the national stage.
Copyright 2023, RepublicanPress.org