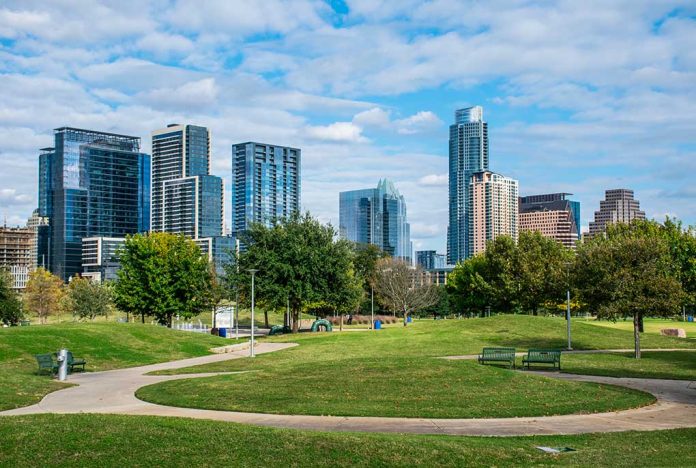 (RepublicanPress.org) – State-level lawmakers in Texas have a long-standing record of pushing back against local authorities' powers. For instance, in May 2015, Gov. Greg Abbott (R) signed House Bill 40 into law, telling reporters that he did so to protect the energy sector from a "patchwork of local regulations." He also boasted that the measure would do a "profound job of protecting private property rights" of citizens in local communities.
Texas legislators passed the measure, nicknamed The Denton Fracking Bill, after that county's residents voted to ban hydraulic fracturing operations within the city limits in November 2014. The law took effect immediately after passing in both Republican-controlled legislative chambers by a greater than two-thirds margin.
Texas lawmakers recently upped the anti and passed another, broader measure to strip additional authority from municipalities and counties.
Texas Lawmakers Pass Bill To Restrict Local Governments
On May 16, the Texas Senate passed the Texas Regulatory Consistency Act (HB2127) along party lines by a vote of 18 to 3. The House voted 92 to 55 to pass the measure, with one lawmaker voting present and two absentees. The legislation is also supported by the Governor.
HB2127 represents Republican lawmakers' broadest effort to prevent the state's largely Democratic-run municipalities and counties from enacting liberal/progressive measures. Section 7 of the new law prohibits local governments from adopting, enforcing, or maintaining any "ordinance, order, or rule" that regulates conduct by placing additional restrictions beyond those listed by existing state codes covering:
Agriculture
Business and commerce
Finance
Insurance
Labor
Local governments
Natural resources
Occupations
Property
Section 11 takes the broadest approach to regulation by barring municipal and country ordinances or rules inconsistent with state law. Section 12 restricts local governments from regulating the "breeding, care, treatment, or sale of animals [and] animal products" beyond the current restrictions mandated by state law. It covers all veterinary practices and business transactions, provided the business holds a state or federal license.
The Texas Regulatory Consistency Act Received Mixed Reviews
Several professional organizations supported HB2127's passage, including the Texas Public Policy Foundation, Texas Restaurant Association, Texas Association of Business, and the National Federation of Independent Businesses (NFIB)
TRA applauds Senator @CreightonForTX, Lt. Gov. @DanPatrick, and the Texas Senate for passing HB 2127, the Texas Regulatory Consistency Act.

HB 2127 by Rep. @Burrows4TX for Texas and Sen. Creighton protects the world's 9th largest economy from of conflicting, costly regulations. pic.twitter.com/DTmOSe69B7

— Texas Restaurant Association (@TXRestAssoc) May 17, 2023
It is a good day for business in Texas! Thank you Senators for passing HB 2127, the Texas Regulatory Consistency Act. #txlege @DanPatrick @Burrows4TX @CreightonForTX

— Texas Association of Business (@txbiz) May 16, 2023
With the passage of the Texas Regulatory Consistency Act, the Senate has joined the House in standing up for Texas job creators. #txlege #smallbiz @CreightonForTX @Burrows4TX https://t.co/4NLjU9jB5u pic.twitter.com/aFfMeYCpzH

— NFIB Texas (@nfib_tx) May 16, 2023
Annie Spilman, the Texas director of the NFIB, issued a statement praising lawmakers for "standing up for Texas job creators." She added that the new law would provide much-needed relief for small business owners "from the current patchwork of regulations" enacted across the state.
Detractors of the new law, like the Texas chapter of the AFL-CIO, say the measure will undo local ordinances and rules intended to protect worker rights, consumer protections, and workplace protections. As one might expect, nearly every legislator representing a Democratic-run district spoke out against the bill, as did local officials.
For example, Austin City Councilman Jose Vela told local ABC affiliate KVUE that HB2127 "threatens" the city's "sick leave mandate… no-kill animal shelter practices… tenant protections… and LGBT anti-discrimination ordinance." He also said the law threatened the "rights of home rule cities" and their democratically elected officials.
Copyright 2023, RepublicanPress.org