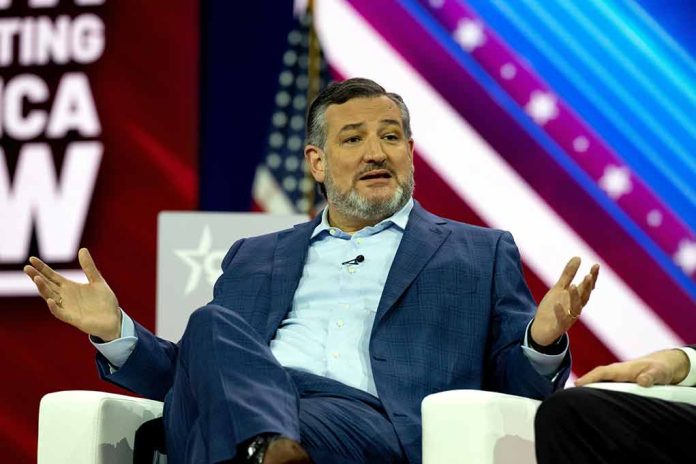 (RepublicanPress.org) – Ever since President Joe Biden stepped into the White House, at some Republicans in the House of Representatives has talked about impeaching him — most notably Representatives Marjorie Taylor Greene (R-GA) and Lauren Bobert (R-CO). Now that Senator Chuck Grassley (R-IA) has released the FBI FD-1023 detailing bribery allegations regarding Biden, more GOP members are considering moving forward with the measure.
On July 27, Senator Ted Cruz (R-TX) appeared on "Eric Bolling: The Balance," where he said if the accusations against him prove true, Biden should be "impeached and removed from office." He also went a step further, stating the president should go to jail if he broke the law. However, Cruz made it clear that the allegations in the FD-1023 report were unverified, and officials have no idea whether or not they are true. The politician suggested that the House investigate the matter.
The senator went on to talk about the perceived discrepancies between what the White House previously claimed about Hunter Biden's foreign business dealings. Cruz said the president denied ever speaking with his son about his business dealings. However, the Texas senator stated Hunter Biden's business associate is set to testify that he was at the White House several times and discussed foreign business dealings while there.
Ted Cruz calls for impeachment inquiry of President Joe Biden https://t.co/L4YsE0R1bx

— NEWSMAX (@NEWSMAX) July 27, 2023
Cruz said White House Press Secretary Karine Jean-Pierre recently flipped the narrative when she said Biden "was never in business with his son," rather than saying he never discussed business dealings with his son — as he's claimed before. The politician thought that was a distinct change. Senator Cruz said the "evidence keeps mounting up," making Biden look like he may have been involved in some type of corruption. However, the politician didn't detail any actual evidence backing the claim.
Recently, House Speaker Kevin McCarthy (R-CA) told Fox News host Sean Hannity that the information against Biden "is rising to the level of impeachment inquiry." But it's unclear if he has the votes in the House to do so.
Copyright 2023, RepublicanPress.org