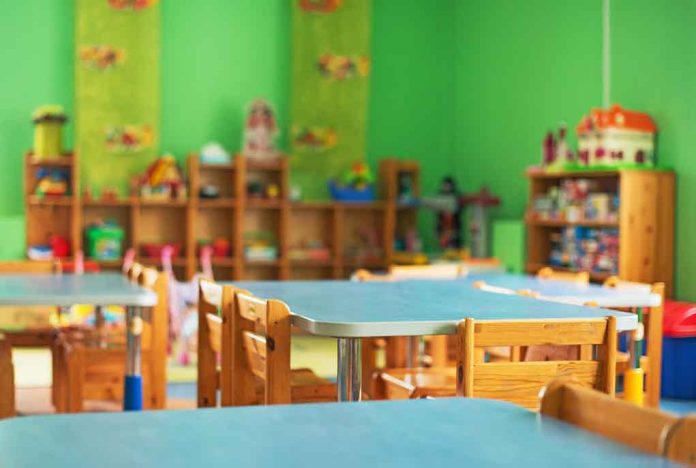 (RepublicanPress.org) – A little boy who attended Richneck Elementary School in Newport News, Virginia, allegedly brought a 9mm gun to school and shot his first-grade teacher, Abby Zwerner, on January 6. The educator suffered serious wounds to her hand and chest. The 25-year-old led her other students from the classroom to safety before seeking treatment for herself despite her potentially life-threatening injuries. The Virginia Senate officially commended Zwerner for her bravery. Now, more details are emerging regarding the teacher's worries about the student's behavior before the incident.
Using a Freedom of Information Act (FOIA) request, 13News Now procured documents sent between Zwerner and the school administration showing the first-grade teacher had documented the child's severe behavioral issues. An email chain between the teacher and certain administrators at the school preceded the shooting. On November 22, Zwerner reportedly told the principal and vice principal that two previous incidents involving the boy were worrisome enough that she didn't want him back in her classroom that day.
Teacher Abigail Zwerner sent emails about 6-year-old's behavior before shooting https://t.co/AXb4coAtaW pic.twitter.com/hGPqxv9OOW

— New York Post (@nypost) February 6, 2023
One incident reportedly involved the 6-year-old giving someone the middle finger, and the other was a physical altercation between the boy and another student. 13News Now reported on a statement obtained from the child's family after the shooting. The parents stated the student "suffers from an acute disability" and was participating in a "care plan" that involved one of his parents accompanying him to school daily. They said neither of them attended with the child during the week of January 6.
A report from The Associated Press also emerged on February 6 regarding a legal notice filed for the victim. Allegedly, the child also committed other concerning actions, including cursing at people, breaking Zwerner's cell phone, and even trying to choke a different teacher.
According to the New York Post, Zwerner's attorney, Diane Toscano, claimed that school officials knew the boy had a weapon but ignored the issue. She said the shooting was "preventable." The teacher is reportedly planning to sue the school district. There's no word on whether or not Zwerner will return to teaching or on the boy's fate. The teacher is currently recovering from her injuries at home.
Copyright 2023, RepublicanPress.org