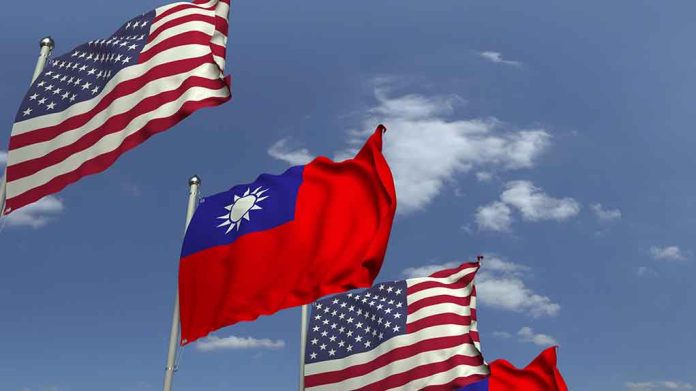 Mixed Messaging on Taiwan Causes Confusion
(RepublicanPress.org) – The United States sees Taiwan as an important partner in the Indo-Pacific region, but has no formal "diplomatic relations" with the nation. Since late summer 2021, President Joe Biden reportedly said at least four times that America would defend the country if China decided to invade. The leader's words have caused confusion among some, who cite the 1979 Taiwan Relations Act as the standing law when it comes to Taiwan. The law states the US accepts a "one China policy."
Words Sow Confusion
Every time the president indicated US troops would defend the island nation, White House officials would step in to clarify there has been no official policy change when it comes to Taiwan. The United States still holds a policy of "strategic ambiguity" with regard to defending the country and still has no formal relations.
However, the US has continued to draw frustration from China by offering support to the island nation. In recent weeks, multiple lawmakers, including House Speaker Nancy Pelosi (D-CA), have visited Taiwan. China conducted large military drills soon after Pelosi's trip there.
On September 20, National Security Advisor Jake Sullivan confirmed there has been no policy shift made by the president. While speaking to a reporter from CNN, he claimed Biden answered a "hypothetical" and noted the president has been "clear" that there's no policy change.
According to Politico, Center Fellow from Stanford University Oriana Skylar Mastro Biden's words are "not a gaffe," citing the numerous times he's claimed the US would use military force to defend the tiny island nation. In fact, the news outlet called his latest declaration on September 18 during a "60 Minutes" interview his "most unequivocal."
While talking with host Scott Pelley, Biden confirmed US forces would defend Taiwan if there was an "unprecedented attack."
Some lawmakers backed Biden. For instance, Senator Bob Menendez (D-NJ) wants to see the US take a tougher stance against China. According to Politico, he said he believes Biden has been incredibly "direct" about his position on the matter. Others opposed the president's words. Politico reported that Senator Dan Sullivan (R-AK) called the president's words "shocking" and "dangerous," stating Biden should update Congress if the White House plans to change policy.
Current Legislation
Menendez recently introduced the Taiwan Policy Act for consideration. The bipartisan measure passed the committee by a vote of 17 to 5. The measure is not meant to replace the Taiwan Relations Act but would complement the standing law. According to a press release, Senator Jim Risch (R-ID) said the proposal, if passed, would make Chinese leaders "think twice about invading or coercing Taiwan."
Other lawmakers such as Senator Rand Paul (R-KY) and Senator Brian Schatz (D-HI) had serious reservations about the move. It's unclear if Biden would sign the bill if it reaches the Resolute Desk.
Copyright 2022, RepublicanPress.org