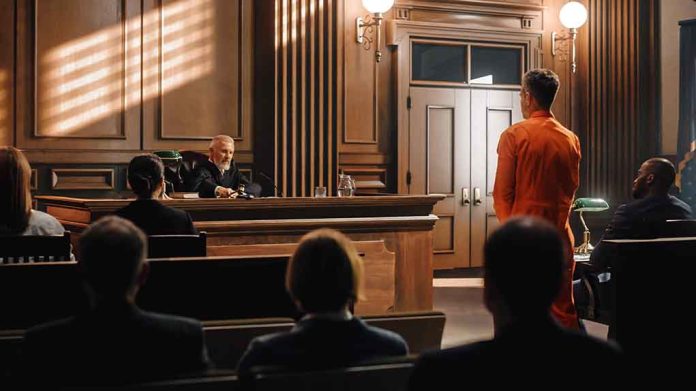 (RepublicanPress.org) – In 2007 and 2008, a criminal terrorized the area near Terminal Street in Charlestown, Massachusetts. An assailant sexually assaulted three women and attempted to rape a fourth. Fortunately, the last victim was able to fend off her attacker, but the case went cold until recently.
On May 30, police arrested 35-year-old Matthew Nilo, an attorney who lives in Weehawken, New Jersey. Authorities charged him with three counts of aggravated rape, one count of assault with intent to rape, a single count of indecent assault and battery, and two counts of kidnapping.
Nilo appeared before a judge on June 1 and entered a plea of not guilty. FBI Boston's Special Agent in Charge Joseph Bonavolonta said the agency believes they "removed a dangerous threat from [the] community."
The suspect was employed by Cowbell, a Manhattan-based law firm, working as a cyber claims counsel. The company released a statement indicating Nilo had passed the background check for employment, but the firm suspended the lawyer "pending further investigation."
The alleged perpetrator reportedly lived in several other states before the assaults took place near Boston, including New York, Wisconsin, and California. The defendant is being held on $500,000 cash bail and, if released pending trial, will have to wear an ankle monitor to track his whereabouts.
Investigators reportedly used genetic genealogy to identify Nilo for the assaults. The technique combines genealogical records with DNA analysis to produce new leads in unsolved cases. Police do that by uploading DNA profiles to ancestry websites to get familial matches, then they build a family tree to try to find the suspect. Or if they have a suspect in mind but can't get the suspect's DNA, they try to get a family member's genetic material instead to see if there's a partial match. In 2018, police arrested Golden State Killer Joseph DeAngelo after using genetic genealogy to identify him as a suspect. Police recently used it to identify Brian Kohberger in the case of the four murdered Idaho college students.
Law enforcement officials are beginning to use this more often, leading to questions about whether it's legal. Nilo's attorney, Joseph Cataldo, raised questions about it, saying he wasn't aware there was a search warrant issued for his client's DNA samples. He suspects no such warrant exists.
Copyright 2023, RepublicanPress.org