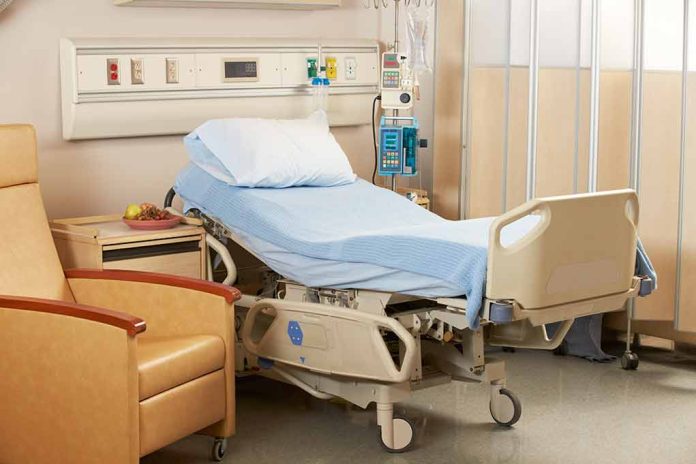 (RepublicanPress.org) – High-voltage utility line worker Aaron James suffered the after-effects of a life-altering accident resulting in the loss of much of his face in June 2022. Officials from NYU Langone Health, one of the nation's top research and rehabilitation centers, recently announced that the facility conducted a first-of-its-kind transplant on him.
On November 9, NYU Langone issued a press release detailing the first whole-eye transplant, calling it a "major paradigm shift" that increases the potential of vision treatment and therapies. The statement explained that a surgical team spent roughly 21 hours conducting a partial-face transplant as well as replacing James' left eye at the end of May.
An Arkansas man has a new eye after being the subject of the first-ever human eye transplant in May. https://t.co/D6wrKXgIXu

— CBS News (@CBSNews) November 9, 2023
NYU Langone noted that it took nearly 150 doctors, nurses, and other medical professionals to perform the intricate surgery. James lost his chin down to the bone, left cheek area, front teeth, left eye, and entire lips and nose after receiving a 7,200-volt electric shock. He also lost his left arm above the elbow, but surgeons didn't operate on that injury.
Dr. Eddie Rodriguez worked with NYU Langone's multidisciplinary medical team and James' family to make the decision to perform the historic whole-eye transplant along with part of his face. The noted surgeon and medical professionals warned the family the cosmetic benefits might be the best outcome of the procedure.
Rodriguez and NYU Langone's Transplantation and Cellular Therapy Center officials combined the donor's eye with bone marrow-derived stem cells to help James' body create healthy cells to replace "damaged or dysfunctional elements." Dr. Samer Al-Homsi, the center's head, said that was the first time medical professionals tried injecting adult stem cells into a human eye during transplant surgery "in the hopes of enhancing nerve regeneration."
CBS News reported that NYU Langone recently performed two functional MRIs on James. The first one confirmed the new eye's retina could respond to light. The other one showed that his visual cortex recorded the presence of a light flashed in his face.
It remains unclear whether James will be able to see out of the new eye.
Copyright 2023, RepublicanPress.org