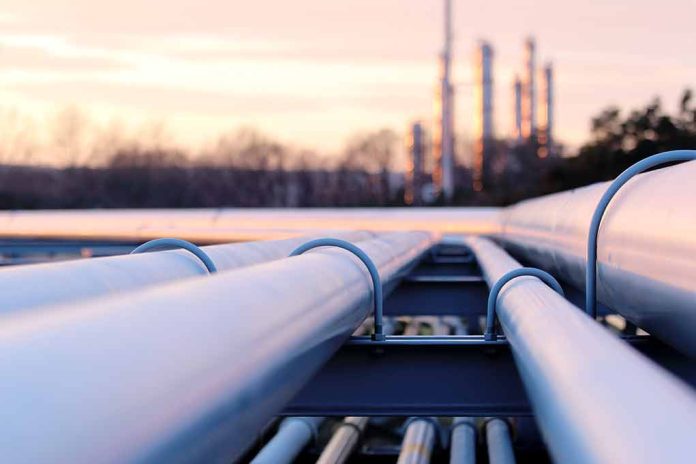 (RepublicanPress.org) – Upon completion, the Mountain Valley Pipeline (MVP) will span roughly 303 miles from West Virginia's northwestern border to southern Virginia. However, the project has faced fierce legal resistance from environmental groups putting it years behind schedule and billions of dollars over budget. The US Supreme Court recently handed the project's developers a considerable victory.
On July 27, the Court released a slip opinion lifting two stay orders issued by the US Court of Appeals for the Fourth Circuit on July 10 and one the following day, putting a hold on continued natural gas pipeline construction. The justices didn't sign the order, but there weren't any recorded dissents.
The case focused on legislation signed into law on June 4 to raise the national debt ceiling. However, to secure the passage of the measure, President Joe Biden agreed to a demand by Sen. Joe Manchin (D-WV) to include a clause, Section 324, requiring federal agencies to issue the permits needed to complete the MVP project.
The Supreme Court has spoken and this decision to let construction of the Mountain Valley Pipeline move forward again is the correct one. I am relieved that the highest court in the land has upheld the law Congress passed and the President signed.

— Senator Joe Manchin (@Sen_JoeManchin) July 27, 2023
The Fiscal Responsibility Act of 2023 also protected those permits by review by the federal courts. The bill also directed all constitutional challenges to the act to the US Court of Appeals for the District of Columbia.
Nevertheless, the Fourth Circuit Court of Appeals handed down its three stays in July in defiance of that acts specific limitations. As a result, the joint venture constructing the pipeline, led by Mountain Valley Pipeline, LLC, filed a petition with the Supreme Court on July 14. They sought an order lifting the stays and a finding that the Fourth Circuit lacked the jurisdiction to have issued those orders in the first place.
The petitioners noted that time was of the essence since it only had three months to complete the MVP before winter halted "significant construction tasks" until next year's thaw. They also argued that completing construction in 2023 would help the environmental recovery from the project since the earth was already disturbed.
Manchin issued a brief statement supporting the decision, as shown in the above Tweet. He said he felt "relieved" that the nation's highest court "upheld the law Congress passed and the President signed." Likewise, Sen. Shelley Moore Capito (R-WV) applauded the Court's ruling. According to 7News, she was "excited" about both the short-term and the long-term jobs that this would create.
Copyright 2023, RepublicanPress.org