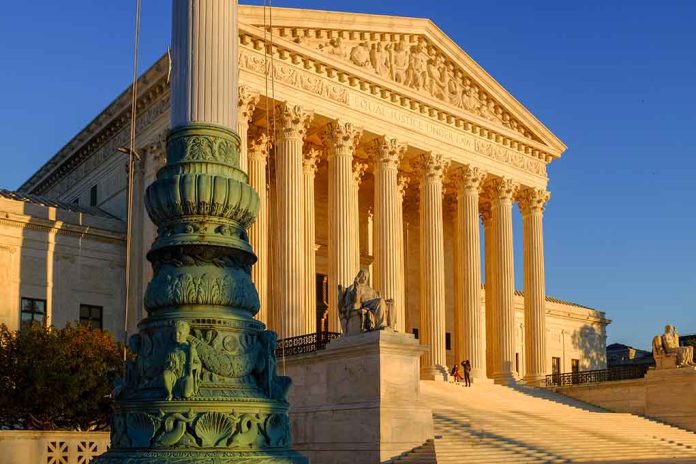 (RepublicanPress.org) – The Supreme Court remains bitterly divided on several partisan issues like reproductive rights and gun control. However, the nation's highest court occasionally hears arguments paving the way for a consensus from the justices, regardless of their ideological background. The panel recently handed down a unanimous ruling in such a case.
On June 16, SCOTUS handed down its ruling in Lora v. United States, a case involving a defendant sentenced to consecutive prison terms. Federal prosecutors successfully charged Efrain Lora on federal charges for his role in the murder of a cocaine dealer in the Bronx. Court documents indicated that he acted as a scout and called his co-defendants when he saw Andrew Balcarran standing outside his house.
Lora was convicted of conspiracy to distribute drugs in violation of 21 US Code §§841 and 846. He was also found guilty of "aiding and abetting a violation" of 18 US Code § 924(j)(1), which prescribes the penalties for a person who violated subsection (c) of the statute by causing the death of a person using a firearm when "the killing is a murder."
The district court judge hearing his case sentenced Lora to 30 years in prison. The court gave him 25 years on the drug distribution charge and ordered him to serve an additional five years consecutive to that sentence on the aiding and abetting count. The judge ruled § 924(c) prohibited concurrent sentencing.
The Supreme Court's first opinion of the day is Lora v. U.S. Justice Jackson's unanimous opinion for the court holds that sentences imposed under §924(j) can run concurrently or consecutively with another sentence. https://t.co/4ZzKd8h3TA

More opinion(s) to come. pic.twitter.com/tbXVOBvsuP

— Mark Joseph Stern (@mjs_DC) June 16, 2023
Lora appealed his sentence, but the Second Circuit Court of Appeals sided with the district court and affirmed its ruling. The Supreme Court accepted the case in 2022 and heard oral arguments in March 2023.
Lora's attorneys readily conceded that Code § 924(c) prevented the court from handing down a concurrent sentence. However, they argued that since § 924(j)(1) dictated the sentencing for his aiding and abetting charge, the lower court erred by giving him a consecutive sentence — erroneously thinking it had no choice.
The Supreme Court concluded a judge can hand down a concurrent or consecutive sentence for a violation of § 924(j)(1) under 18 US Code § 3584 and remanded the case to the lower court by a unanimous vote. Associate Supreme Court Justice Ketanji Brown Jackson wrote the opinion for the court.
Although some media sites speculated that this case could impact defendants convicted of a broad spectrum of charges, this is a narrow decision only pertaining to violations of § 924. 
Copyright 2023, RepublicanPress.org