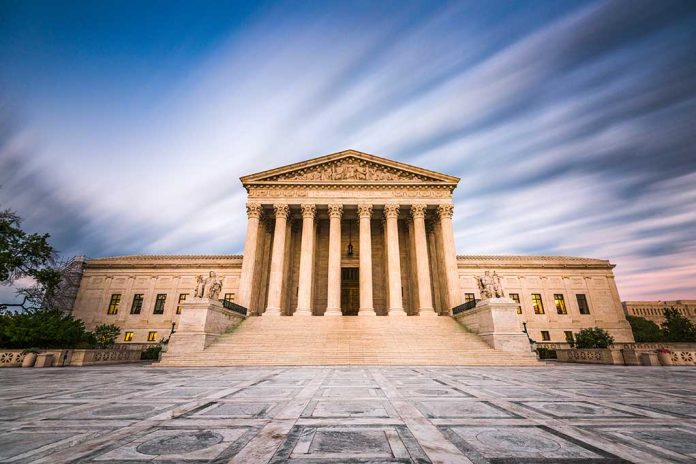 (RepublicanPress.org) – Ever since President Joe Biden entered office, he has advocated for greater gun control efforts. The matter has led to intense controversy between Democrats and Republicans over the last two years. The US Supreme Court recently breathed new life into one of the president's gun measures. However, the move could only serve as a temporary reprieve.
On August 8, SCOTUS voted 5-4 to temporarily reinstate a Bureau of Alcohol, Tobacco, Firearms, and Explosives (ATF) rule regulating "ghost guns," untraceable firearms purchased online without serial numbers that can be assembled by purchasers at home.
The Supreme Court allowed a set of ghost gun regulations created by the Biden Administration to take effect Tuesday—which updated the definition of a firearm to include gun kits that can be easily purchased online and assembled at home. pic.twitter.com/7SFmEJCpyI

— Forbes (@Forbes) August 8, 2023
The High Court's one-page order stayed the July 5 judgment of the US District Court for the Northern District of Texas overturning the ATF's rule (87 Fed. Reg. 24652), pending the outcome of the Biden administration's appeal of that ruling before the US Court of Appeals for the Fifth Circuit.
The order also leaves the stay intact until the ATF or Justice Department successfully applied for a writ of certiorari before the Supreme Court should they lose in the Fifth Circuit. The stay automatically terminates if they prevail in the lower court or SCOTUS denies their writ.
Conservative Justices Brett Kavanaugh, Samuel Alito, Neil Gorsuch, and Clarence Thomas indicated they would have denied the application for a stay.
The ATF published the new rule in the Federal Register in April 2022, and it went into effect four months later, in August 2022. However, manufacturers and distributors of ghost gun kits filed a lawsuit challenging the regulation on constitutional grounds.
The presiding jurist, US District Judge Reed O'Connor, sided with the plaintiffs and vacated the regulation nationwide at the end of June. As expected, the ATF appealed to the 5th Circuit. The panel agreed to fast-track the case but rejected the government's effort to temporarily stay O'Connor's order.
Oral arguments are scheduled in the 5th Circuit Court of Appeals for September 7.
Copyright 2023, RepublicanPress.org