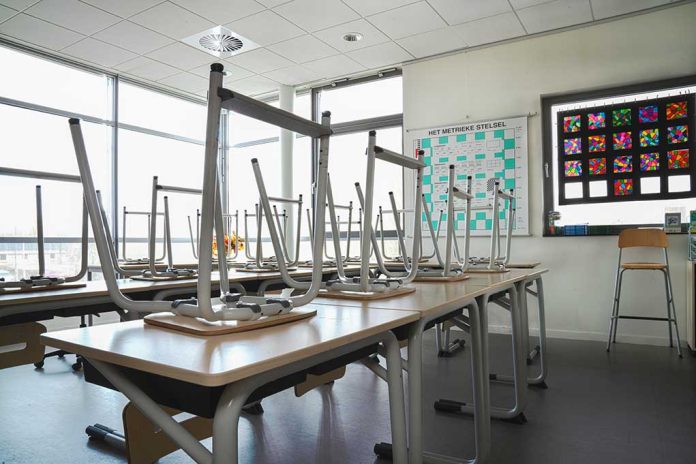 Teacher BUSTED?! – Students Help Build the Case!
(RepublicanPress.org) – Earlier this year, the parents of five Rhode Island student-athletes hired former special assistant attorney general Timothy Conlon to represent their interests regarding allegations of inappropriate conduct lodged against a teacher, Aaron Thomas. In April, another family retained Conlon's services regarding a different instructor. School officials ultimately dismissed the first teacher and placed the second one on leave. Now, the teacher on leave is the subject of an investigation, and the documentation of a group of his students is being used as evidence.
On April 29, the North Kingstown School District's Interim Superintendent Michael Waterman sent a letter to members of the school community announcing his decision to place the unnamed teacher on leave after receiving a letter from Conlon. He also ordered an internal investigation into the allegations.
The interim school North Kingstown superintendent announced late Friday night that he has placed a teacher accused of stalking a middle school girl on leave and ordered an internal investigation. https://t.co/9J0nKax9ED

— Boston Globe Rhode Island (@Globe_RI) May 2, 2022
The teacher, identified as "John Roe 21" in Conlon's letter, reportedly abused female students for decades. Students claim he told them they were powerless to stop him, and that he survived complaints for nearly 30 years. The family represented by Conlon accused John Roe 21 of stalking their middle-school-aged daughter and going out of his way to be alone with her.
EXCLUSIVE: The middle school boys thought their teacher was a 'creep.' So they tracked how he treated the girls. https://t.co/xeoq3C5yVM via @BostonGlobe

— Amanda Milkovits (@AmandaMilkovits) September 9, 2022
On September 9, The Boston Globe reported that a small group of Davisville Middle School boys had enough of John Roe 21's conduct and decided to document his behavior on a Discord subchannel in January 2021. The reports included instances of the teacher telling female pupils they loved him, instructing them to "stand up and dance," and telling students — "[everyone] in bathing suits tomorrow."
One of the boy's mothers told The Globe the so-called "Pedo Database" was turned over to federal prosecutors, Rhode Island Education Department officials, and the Department of Children, Youth, and Families. According to the boy, who was quoted by The Boston Globe, he never thought the database "would actually be used as evidence," but he's glad he and his classmates created it.
Copyright 2022, RepublicanPress.org